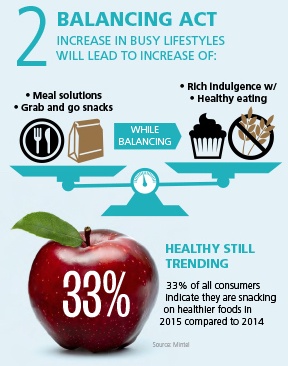 Life is busier than ever! With frantic schedules, American consumers are adopting an on-the-go lifestyle and seeking convenient meal options. But that doesn't mean they're ready to sacrifice high-quality food—they expect both.
With the better-for-you foods trend growing, claims that convey wholesome, clean ingredients play a big role in today's food choices. Consumers want snacks to do more than just tide them over.1 Portable, prepared snacks packed with fresh, better-for-you ingredients can help customers make smarter choices they'll feel good about.
Oatmeal and yogurt parfaits are on the rise, balancing health and speed.2 Mini-salads packed with high-protein ingredients like quinoa, beans or turkey breast are always good options. And whole-grain crackers with vegetable dips and hummus create a perfect snackable package.
Satisfyingly delicious snacks that deliver steady energy are great on-the-go meal options. Think breakfast bars, fruit bars or bars with minimal ingredients that can be enjoyed with things like low-fat dairy and fruit.
Even with health top-of-mind, consumers still desire treats from time to time.1 Serve up alternative snacks that taste decadent but offer lower calories or more nutrients, like rich, creamy frozen yogurt topped with cookie crumbs or shakes packed with fresh fruit.
For times when only a chocolate chip cookie will do, portion control becomes key. Offer smaller servings of popular cookies and crackers to satisfy a desire for a treat without wrecking diets.
Consumers who are constantly on the go will appreciate better-for-you, portable options that fit their lifestyles!
What are your most popular better-for-you snacks? Let us know in the comments section below.
1. Hartman Group, Snacking Opportunities: Building Better Snacks, October 2015
2. Mintel Menu Insights, Q3 2011–2014