Posted in Millennials on February 28, 2023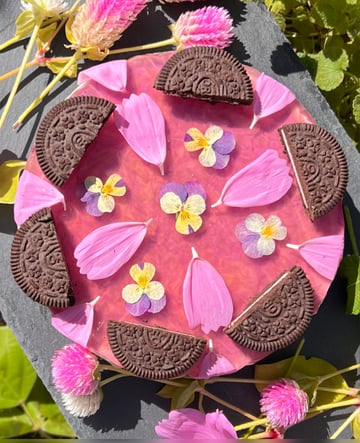 U.S. restaurants incorporating flavors found in cuisine served in Southeast Asia is predicted to be one of the top 10 menu trends this year.1 A number of stateside chefs have already begun including elements from the region in desserts, according to Melissa Abbott, vice president at the Hartman Group food and beverage research agency—which might benefit patrons who are looking for somewhat lighter options.
"Consumer desire for global flavors has been fueled by increasing diversity and exposure to a multitude of cuisines, flavors and food traditions," Abbott said in an interview with Mondelēz Foodservice. "Flavors from Asia, whether it's regional Chinese, Taiwanese, Southeast Indian, Vietnamese or Japanese, offer diversity from the everyday and are typically less sweet."
The following Asian-inspired flavors and formats are forecast to flourish in 2023 and beyond.
1. Tropical Fruits
U.S. consumers have expressed interest in some tropical fruits that are frequent inclusions in desserts in Asia, such as dragon fruit, which 27% of consumers hope to try, and 31% have eaten and liked. More than a fifth (21%) of consumers are interested in sampling lychee, which is native to China. A number may get a chance to, thanks to restaurants that are integrating the small, circular fruit into desserts—such as El Ideas in Chicago, which has offered a coconut and lychee pound cake. 2, 3
2. Ube
Food and beverage market research provider Datassential chose ube, vibrant purple yams the Food Network calls "a staple dessert ingredient in the Philippines," as one of their top flavor predictions for 2023. 4, 5
Gemma Matsuyama, Mondelēz Foodservice Brand Ambassador and former pastry chef at Ototo and Tsubaki in Los Angeles, who was named a Los Angeles Rising Star by StarChefs in 2021, agrees that ube is a versatile ingredient growing in popularity.
"I love the interest in Asian flavors like Ube because, although coming from humble ingredients, it has such a strong flavor personality," Matsuyama said in Mondelēz Foodservice's 2023 trends report. "Ube, much like a purple sweet potato, is naturally sweet. It can easily please pumpkin or chestnut flavor-lovers."
3. Yuzu and Pandan
Operators may be able to increase new dessert offerings' excitement factor by including other still-emerging flavor items like yuzu, a tart citrus fruit grown in Japan, China and Korea, and pandan, a tropical plant that grows in Southeast Asia that's used somewhat like vanilla flavoring.6 Both ingredients are in the earliest stages of adoption, popping up in items like a key lime pie with an OREO crust at Blue Ribbon Sushi Bar & Grill in New York City and cakes sold by Southeast Asian-inspired New York pastry shop Lady Wong, respectively.2
4. Red Bean
Red bean is sometimes used as a smooth paste in a traditional pancake-type dessert called dorayaki in Japan; the up-and-coming inclusion can be found in the U.S. in items at the 12-state Mango Mango Dessert chain. Within the Philippines, red bean is often part of halo-halo, a layered dessert that includes shaved ice, condensed milk and potentially ingredients like toasted coconut.7,8
5. Cherry Blossom
After future menu iterations in the U.S., additional ingredients like cherry blossom, known as sakura in Japan, may also become more common dessert aspects, according to Datassential.9
6. Matcha and More
20% of millennials and 25% of Gen Z are interested in trying items that contain matcha2, and it offers a fair amount of versatility as an ingredient, according to Matsyuama.
"Matcha, once roasted, turns into hojicha, which has a nutty, robust flavor profile without bitterness, with hints of cacao," she said. "Hojicha is delicious as ice cream, [a] milkshake, jelly or cakes and cookies."
In addition to matcha, "mango, persimmon and dragon fruit are well-suited for sparkling waters, cocktails, mocktails and iced teas," said Abbot."Renditions of Thai iced tea and Vietnamese iced coffee are options for consumers to try new flavors that might be outside their typical routine, but still feel accessible."
7. Embrace Regionality
Format and flavor, however, aren't the only factors to take into account when creating desserts that encompass elements with an origin in Southeast Asia. The foodservice industry, according to Abbott, is increasingly facing a need to embrace a hyper-regionalistic approach to menu offerings that feature an international influence.
"As globalization continues to play a prominent role in consumer culture, consumers will increase their expectations of regional distinctions and authentic narratives as they seek meaningful consumption," she said. "Restaurant operators must consider that consumers and the products and restaurants they support are moving beyond generalized, monolithic labels—such as 'Asian'—that can minimize important distinctions within those cuisines."
Wondering what additional elements could affect restaurant menus and sales this year? Check out the other four trends identified in our 2023 trends report.
1 What's Hot 2023 Culinary Forecast, the National Restaurant Association, 2022
2 Trending Flavors and Ingredients: Desserts and Confections, T. Hasegawa, 2021
3 "What Is Lychee Fruit?," The Spruce Eats, Dec. 12, 2023
4 Dessert Flavors Menu Adoption Cycle, Datassential, September 2022
5 "Have You Heard About Ube? Here Are 7 Things to Know," The Food Network, 2017
6 "What Is Pandan?," The Spruce Eats, Sept. 30, 2022
7 "Dorayaki: Japanese Sweet-Filled Pancakes," The Spruce Eats, May 17, 2021
8 "Halo-Halo," Bon Appetit, July 6, 2021
9 "Flavor Trends for 2023 and Beyond: A Closer Look," Datassential, January 24, 2023