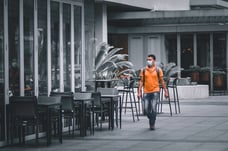 Leave it to a pandemic to build up the market's appetite for foodservice. At one point, eating out at a restaurant ranked as the most looked-forward-to post-quarantine activity, according to the market research firm Technomic.1 But as infection rates rise, it should come as no surprise that consumer confidence in returning to pre-pandemic activities is falling.
A major national survey revealed that the percentage of people who would eat in a restaurant slipped from 55% in June to 50% in July—a decline consistent with other popular pre-pandemic activities, such as going to a concert (30% vs. 23%) and attending a sporting event (32% vs. 27%).2 If coronavirus cases continue to surge, that month-to-month trend could continue—and compel operators to redouble their efforts to regain consumers trust.
While the overly optimistic may be eating their words, more prudent foodservice operators and restaurant brands are resetting the table to offset the impact of resurgent coronavirus cases.


"The most successful leaders have always been able to distinguish between what takes their attention, and what needs their focus," leadership author and consultant Jim Sullivan writes.3 "The smart restaurateurs posited a foundational query: 'What does the customer need under the current circumstances, and is our current operational system designed to meet those needs?' If not, they asked, 'Why not?' and made the necessary changes."3
White Castle Flips for Burger-Cooking Robot
Above all else, customers need to feel safe. Technology that replaces human staff may help mitigate the risk of infection while also providing a cost-effective solution to the labor problem. As a result of COVID-19, the adoption of robotic technology is accelerating. Flippy, a robotic burger and fry cook used at Dodger Stadium and fast-casual chain CaliBurger, is scheduled for a trial run at a Chicago-area White Castle in September or October.4
Contact-free automation offers the dual advantage of increased safety and efficiency. Consumer demand may not only be fueling delivery and takeout, but it may also become a driving force that speeds up the integration of contactless ordering—from artificial-intelligence-equipped drive-thru menu boards to kiosks to robotic cooks.
As White Castle Vice President Jamie Richardson explained: "We think customers of today and tomorrow are going to want contact-free cook zones. We see this as being what's next in the kitchen."4 Lisa Ingram, the chain's CEO, also expressed enthusiasm. "We are thrilled to bring the future into our kitchen with solutions that will transform the industry and make the White Castle experience all that it can be for generations to come," she said.4
El Pollo Loco: Consumers Crazy for Curbside
Quick service chain El Pollo Loco plans to roll out enhancements to its digital platform to increase acquisition and engagement and to modify its app for curbside pickup. The brand achieved record delivery sales through partnerships with third-party services and more than tripled its digital business, but sales in its core markets have softened during the pandemic's resurgence.5 By expanding and enhancing off-premises options through digital innovation, the chain positions itself to regain momentum during the resurgence.5
"We believe the addition of curbside pickup will provide additional peace of mind for our customers to safely access our offerings, as curbside service is seen as one of the safest ways to access food off-premises," CEO Bernard Acoca said during the chain's second-quarter earnings call.5
A survey released July 30 by the global consulting firm AlixPartners sheds light on the most popular methods for ordering restaurant food. Nearly half (44%) of consumers said drive-thru is their most preferred method, whereas 40% favor takeout/carryout and 32% opt for curbside pickup.5
At Mondelēz International Foodservice, we specialize in tailoring menus to meet the challenges of the market. Reach out below to learn how we can elevate your menu with takeout and delivery-friendly dishes to help boost your digital sales.
1 Technomic, Quarterly LTO Review: Q1 2020, p. 9
2 Assunção, Muri, "People growing less confident about returning to daily activities amid recent COVID-19 surges, survey finds," New York Daily News, July 31, 2020
3 Sullivan, Jim, "5 new leadership lessons for restaurateurs reopening during the coronavirus pandemic,"Nation's Restaurant News, July 31, 2020
4 Luna, Nancy, "White Castles hires robot, Flippy, to cook fried foods," Nation's Restaurant News, July 14, 2020
5 Luna, Nancy, "El Pollo Loco logging soft sales in core Los Angeles, Orange County markets, where coronavirus cases are on the rise," Nation's Restaurant News, July 31, 2020