Posted in Vending on May 31, 2023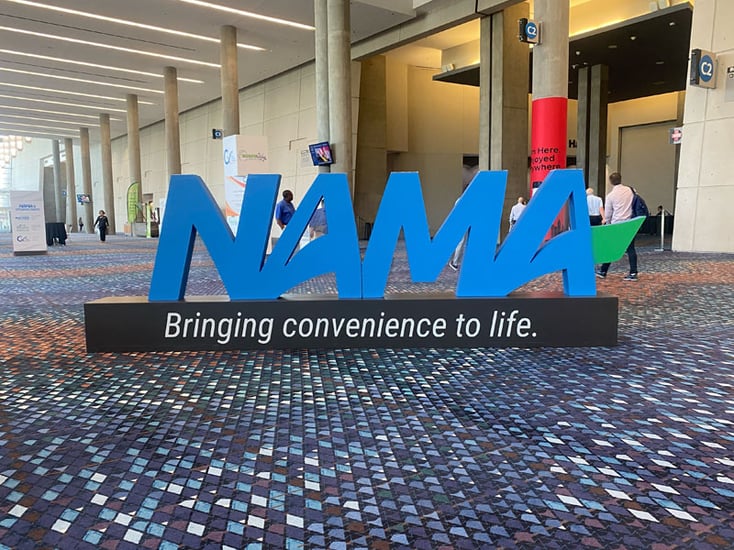 With snack sales surging, operators are more interested than ever in using data to drive sales, combining their own company data with data from Mondelēz International and other manufacturers.
William Himburg, East Region Manager at Mondelēz International, is a veteran of industry trade shows. He said that the conversation with operators has changed in recent years, and the 2023 NAMA Show was a prime example.
"Operators used to visit our booth to get samples, to ask about prices and to inquire about their rebates," said Himburg. "That has all changed. Today, operators want to know how to generate more sales. They want to talk about industry data, category management, generational product preferences, portion sizes and pre-kits."
Interest in Brands
Himburg's counterpart at the Mondelēz International booth, William Moore, is a customer business lead from New York. He noticed that operators were also interested in how some of the newer Mondelēz International brands should be integrated into the product mix. "Because there is so much focus on selling products based on demographics, operators are asking about some of our brands beyond OREO and SOUR PATCH KIDS, although everyone loves OREO cookies, and SOUR PATCH KIDS is a favorite of Gen Z," he said.
"It is important for operators to understand that belVita is a strong morning product, CHIPS AHOY and OREO crossover among all generations and location types, and a product like Tate's, RITZ and now Clif are a strong product in certain workplaces," Moore said. "We even find that product choices can be driven by the day of the week. After a weekend, on Monday and Tuesday, employees are looking for healthier selections. By Wednesday and Thursday, indulgence starts to kick in. That's why variety, especially in a micro market, is so important," he added.
Reporting Stronger Sales
Himburg said that operators are reporting stronger sales as office populations grow and pantry service locations are improving. "Many of the operators we spoke to are having better luck hiring, and everyone is pleased with the improved supply chain situation," he said. "Many are finally able to focus on category management again, and we are there to help them. We want to make sure they have the right products in the right locations."
From all indications, snack sales will continue to surge. In the NAMA Show 2023 educational session, "Immerse Your Thinking in the Consumer Shopping Experience," Andrew Boudreaux, category management specialist for the Hershey Company, said that despite inflation and other economic pressures, the snack food channel is performing well.
According to convenience store data accumulated by The Hershey Company and presented in the session, in the past 52 weeks, most snack categories are outpacing total store growth of 7.6%, with salty snacks up 16%, cookies and crackers up 14% and candy up 12.8%. "We believe that trend will continue based on historical data," said Boudreaux. "If you look at the 2007 to 2009 period, the GDP was down 5%, and personal consumption expenditures were also down 2.5%, but candy, mint and gum sales went up 8%." Boudreaux said that he expects growth in all snack categories to be at 5 to 7% in 2023 and 2024.
Emerging Trends
Himburg and Moore both agreed that operators are receiving clear messages from their customers on product preferences, including the brands, product categories and package sizes that they want, establishing some definite trends. More importantly, noted Himburg, vending and micro market software provides operators with their own location data, and when that information is combined with manufacturer data, operators have what they need to manage product selections effectively. Boudreaux called that data combination, the "secret sauce."
Healthier products are establishing themselves as a clear trend, according to Linda Saldana of Seventh Wave Refreshments in the Atlanta area. "It's all about wellness and sugar-free, and there is a lot of interest in portion control – smaller packaging."
Paul Tullio, vice president of sales at Five Star Food Service said that keto diet and gluten-free items are a popular request. "They don't always sell that well, but people keep asking for them, so they have to be in the portfolio," he said.
Arthur Siller of Evergreen Refreshments in Seattle said that snack product trends cover both ends of the spectrum. "They are asking for fun and indulgent products, and at the same time, they like to ask for low-calorie popcorn and other products that are on the healthier side. We also have requests for both king-size items and reduced-size items."
Jon Holden, vice president of sales and marketing at Michigan-based All Star Services, said his company is seeing even more interest in what he calls the big three, when it comes to snacking. "There is a clear focus on healthy, sustainable and locally sourced. Those are the big things that our pantry clients are really pushing for." Holden said that it represents a return of where priorities were trending in 2019, pre-pandemic.
Interest in Vision 2030
Moore said many operators at the Mondelēz International booth inquired about the company's "Vision 2030" program, largely because of customer interest in sustainability. "Sustainability is an important part of Vision 2030," Moore said. "It's also about accelerating our growth with a wide variety of snacks, including baked snacks. It is about becoming a leader in the digital snacks channel. It is about building a strong corporate culture with a diverse team and creating long-term value through sustainable practices. It's an exciting program," he added.

Read more snacking trends at Mondelēz Foodservice's insights channel.