Posted in Millennials on March 6, 2017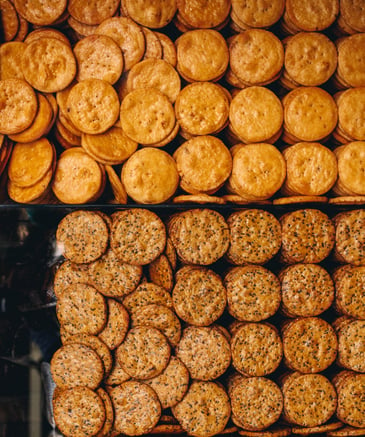 Thin is in when it comes to millennial snack preferences, and snack manufacturers are enjoying sweet success as they position products as thin to ride the wave of wellness foodservice trends. Driven by growing demand for snacks that combine on-the-go convenience, low-calorie nutrition and satisfying flavor, the rebranding of staples and classics as thin encompasses everything from cookies to crackers to chocolate bars.
New thin snacks with bold flavor combinations are also biting into the market in a big way. Many of them tout simple and natural ingredients as well as high nutrient and low calorie content to cater to the clean label movement. (The manufacturer of one of the first thin-themed snacks in the U.S. has doubled its line for the last three years and posted double-digit growth for more than 10 years.1) Flavor profiles vary widely from dark chocolate pretzels with sea salt to spinach and garlic potato snacks to sea salted whole grain crackers in sesame or rosemary varieties.
The Skinny on Slimmer Snacks
Gourmet, conventional, natural and specialty retailers have embraced the thin trend to beef up their bottom lines while appealing to the consumer's appetite for options within the range of 100 calorie snacks. Less thickness and lower sugar and fat content lets waistline-wary snackers consume thin versions of their favorites for less calories than the thicker originals.
Brooke Smith, president of Salem Baking Co., cited thin cookies as an example. "Thin cookies let you enjoy a few more cookies for fewer calories," she said. "When the quality of a product is higher and the taste is more decadent and satisfying, consumers tend to eat less to feel satisfied."2 In addition, new introductions to the market feed the insatiable millennial need for adventurous and eclectic flavor experiences.
While the growth of nutrition and wellness is a driving force in thin snacking trends, another major factor in the slimming down of snacks is the shift away from traditional meals to on-the-go grazing. As the two trends fuse, consumers find themselves hankering for better-for-you snacks that don't sacrifice flavor and foodservice customer service becomes more focused on satisfying demand for thin options. Thin snacks offer a way for consumers to enjoy their favorite snacks without sacrificing flavor, as well as opportunities to experience new flavor combinations.
Are Thin Snacks a Fad? Fat Chance
As John Russo, senior vice president of global consumer insights at Nielsen explained: "Pretzel thins, cracker crisps and even cookie thins are all fairly new options for consumers. This dynamic of healthy and indulgent has inspired brands to introduce healthier versions of their classic offerings with new products that address healthier ingredients, smaller serving sizes and thinner varieties."2
Nielsen research shows that portion control is especially popular in the U.S. and Canada as a path to weight management and overall wellness.2 The growing prevalence of thin snacks has proven them to be a preferred option for consumers interested in portion control.
Thin formats satisfy the consumer's yearning for new snacking experiences and foodservice innovations that provide better-for-you options. Ultimately, however, snacking is all about enjoyment, and intriguing flavor pairings and textures can give thin snacks big appeal. As Russo pointed out, "successful products in the snack category are products that are fun to eat. …Today's snacking consumer is on the hunt for something new, and the 'thin' snack trend allows consumers to continue to engage in their favorite snacks in a new way."2

Are thin snacks feeding your bottom line? Do you think thin snacks carry weight as a source of a higher check average in 2017?