Posted in Snacking on April 18, 2023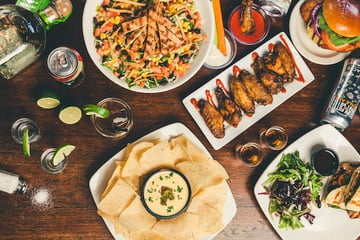 Small bites are trending in a big way—and they're increasing in popularity as go-to meal replacements. Turns out less is more as a growing appetite for grazing continues to upend traditional eating patterns.
Take the global snackification trend. Long considered a way to tide consumers over between meals, snacking has become a source of convenient meal alternatives for today's busy lifestyles.
As cited in the latest State of Snacking report from Mondelēz International, snacking not only remains a daily staple (71% of consumers surveyed snack at least twice a day), but across the world the trend of snacks replacing meals has grown steadily over the last few years.1 In fact, 55% of households turn to snacks as alternatives to meals every week, with particular emphasis on small plates—a percentage that jumps to 64% for Asia Pacific.1
And if the plates are small but shareable, all the better. Snacking and sharing go together, the report found, with 79% of consumers surveyed in agreement that snacking is an important way to connect with others and 71% saying "sharing snacks with others is my love language."1 In India (88%) and Mexico (86%), snacking together is a weekly household ritual.1
Pent-up demand for shareable plates that allow for sampling of food varieties and flavor profiles grew during the pandemic, when consumers and operators alike looked forward to the lifting of restrictions. The market research firm Technomic found that 21% of consumers surveyed planned to order more shareable appetizers in the wake of the pandemic, and 42% completely agreed that small plates were great for sharing dishes when dining in a group.2
Size Matters: Small Plates Satisfy Hunger for Novelty and Variety
Small plates that are big in variety hold special appeal. Technomic research revealed that 30% of survey participants hankered for small plates with mix-and-match versions of sliders or mini burgers, which lend themselves to a wide range of toppings.2
While menu streamlining to reduce costs and increase efficiency has slowed appetizer and small plate operator penetration at full-service restaurants, small plate operator penetration has grown steadily at limited-service establishments—a trend "which could be to meet needs for snacks or shareable items or for off-premise menus during the pandemic," reports Technomic.3
Now that the pandemic has faded, the hunger for variety has consumers eager to find new snacks. Fifty-six percent say they need more "snackspo"(snack inspiration) in their life—an especially strong hankering among millennials (69%) and Gen Z (67%), according to the State of Snacking report.1
High demand for snacks and small bites that offer novelty and variety opens up new opportunities for culinary experimentation. As explored in our post, "Raising The Bar: Dessert Bars Elevate Small Bites to Big Trend Status," this insatiable appetite for shareable bites has led to the rise of the elevated dessert bar as a key trend to watch in 2023.
By the same token, savory snacks, appetizers and small plates can be elevated to hit the sweet spot in a market hungry to try new flavor experiences and culinary concepts. In addition to allowing consumers to explore new foods and flavors, small bites offer the appeal of portion control for the wellness-conscious, who can sample items without consuming a full meal. And for operators looking to manage margins more effectively, they're also a great way to reduce waste.
Got a hankering for culinary info and inspo to help you turn small bites into big sales? Want insights into other culinary trends that could help feed your bottom line? Check out our Culinary Corner for inspiration guides, chef-favorite recipes and more from our acclaimed team of word-class chefs and foodservice experts. For innovative culinary concepts that help your menu stand out and keep customers coming back, just reach out below.
1 Mondelēz International, The Fourth Annual State of Snacking: 2022 Global Consumer Snacking Trends Report, 2022
2 King's Hawaiian, Shareable Dishes Offer Exciting Options for Group Dining Occasions, Restaurant Business, October 4, 2021
3 Technomic 2023 Sample Report, 2022