Posted in Millennials on October 9, 2017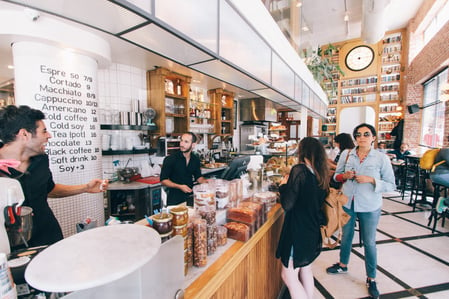 America is the land of the free and the home of the snackers, where snacking has undergone such explosive growth that nearly half the country consumes two to three snacks daily.1 According to research from NPD Group, millennials and baby boomers snacked a combined total of 173.5 billion times in 2015 alone.1

With such a spectacular, ooh-and-ahh-worthy display of consumption, it makes sense for foodservice operators to explore the consumer segments that have made snacking so prevalent it has started to replace traditional meals, as shown by the steady rise of on-the-go breakfast bars.1 SmartBrief reports that snack bar sales skyrocketed nearly 50% between 2014 and 2016, helping to give rise to the trend of high-protein meat- or seed-based snack sticks—part of the larger trend of portable foods with better-for-you appeal.2

As America's largest consumer demographic, millennials are a huge target for snack manufacturers, driving a feast of foodservice trends and becoming a focus of consumer research and analytics.The influence of millennial snackers continues to fill the industry with food for thought, disrupting traditional eating patterns and transforming the foodservice landscape, from the better-for-you and clean label movements to specialty food sales and trends.2
Millennial Snack Boom! An Ongoing Burst of Experimentation
According to Millennial Marketing, a research firm devoted to the millennial market, this consumer cohort represents a generation of foodies with a large appetite for flavor adventures.3 Given to experimentation and driving demand for unique flavors and product options, they have become the greatest generation of snackers, with taste buds that yearn for food experiences that fit the following profiles:3
Complex: Pairings of sweet and savory are popular, as are trending and mainstream flavor combinations (think machta in chocolate cake) and texture changes.
Ethnic: Filipino/Southeast Asian, Peruvian/Brazilian and regional Hispanic are major ethnic flavor influences. (Almost 50% of all flavor occasions in the United States are now ethnic options.)
Artisan: Just as millennials popularized the craft beer market, they have a hunger for artisanal snacks, including gourmet cheese and specialty baked goods.
As the first generation weaned on digital technology, with quick-as-a-click-or-tap lifestyles, millennials seem poised to help propel the sales growth of snack product innovations online, on premises and on the go.
Taking a Closer Look at Takeout Consumers
Takeout and delivery is another growth segment driven by the need for young consumers to balance their busy, on-the-go lifestyle with quick and convenient meal solutions.4 As a result, many foodservice operators, full-service restaurants and retail foodservice providers are incorporating takeout and/or catering services.3

Takeout seems tailor-made for consumers without the desire or time to dine in, thereby driving additional traffic rather than siphoning off dine-in revenue.5 But a deeper dive into the demographics behind the to-go phenomenon can yield valuable insights to how to adapt the experience to need states of different consumer segments.
The market research firm Technomic has segmented consumer groups according to their takeout patterns and foodservice behaviors and attitudes. Here are a few highlights of the 7 consumer segments Technomic identified through survey data:6
Super-Heavy Takeout Users: Tend to believe brand name items taste better and be willing to pay more for them than those who order food to go less often.
Light Takeout Users: More likely to go inside a restaurant for carryout than those who order food to go more often.
Foodservice Hobbyists: Focus on value like both of the above groups, but more likely to choose a restaurant for catering occasions based on price.
Bargain Hunters: Choose restaurants that have lower prices in general.
Busy Balancers: Lead fast-paced lifestyles, which require them to multitask and leave them with little time to stop for a traditional sit-down meal; order food to go more often now than three years ago.
Habitual Matures: Have low receptivity to online ordering, prepay or other takeout and delivery amenities; seem to prefer a traditional to-go experience.
Health Enthusiasts: Seem compelled to favor home-cooked meals due to wellness concerns and are ordering food to go less often than three years ago.
By leveraging consumer insights to inform menu innovation, foodservice and restaurant operators can help encourage a higher check average, attract new business and nurture customer loyalty.
Want to learn more about consumer segmentation and how it can help boost your sales? Reach out with your questions and comments below.
4 Technomic, The Takeout & Off-Premise Dining Consumer Trend Report, 2016, p. 7
5 Ibid., p. 8
6 Ibid., p. 14