Posted in Trends on September 15, 2020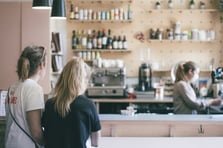 Delivery has always been desirable, if only for its sheer convenience. And now, as the pandemic persists with a far-ranging impact on the industry, it carries the enhanced appeal of combining convenience with safety.
Safety remains a key concern and is likely to become more of a consideration as some states try to reign in a resurgent outbreak and others strive to contain the virus and keep infection rates low. According to the global business management firm AlixPartners, more than two thirds of U.S. consumers surveyed prefer to err on the side of caution and cook and eat at home.
1
That said, AlixPartners data reveals an evolving attitude toward restaurants that signals consumers are warming up to the idea of dining out. "Consumers are looking to dine out. It's not all doom and gloom. They want to go. They need to leave the house, but they want to feel safe," said Adam Werner, AlixPartners managing director.1
Restaurant spending may be low, but it remains the #1 way consumers would like to spend their dining dollars, and consumer confidence in dining out rose from April to July.1 Slightly more than half of consumers surveyed returned to dining out during that time period, though frequency was low.1
Delivery and Takeout Takeaways
Off-premises continues to serve up a reliable source of revenue, with 57% of consumers surveyed saying they order delivery and takeout at least once a week.1 While delivery drives a lot of buzz, consumers favor pickup as a way to avoid delivery fees and maintain a higher degree of safety.1 And in a sign that consumers might be more receptive to dining out provided safety were assured, 47% said they prefer pickup just to get out of the house.1
The quick service chain Bartaco is leveraging people's preference for pickup with innovative offers which allow consumers to cook and eat at home, where they feel most comfortable and safe.
"With the understanding that many just feel safer staying home, we have worked hard to refine our takeout offerings, including the addition of the family packs," said Bartaco CEO and founder Scott Lawton."2 "These kits provide all the ingredients to have a family taco night. It's a great value and we have found that the tacos are better when you put them together at home. People are loving the margarita kits as well."2
Lawton says the chain has taken stringent measures to ensure that "hospitality is safety," including ramping up digital ordering for off- and on-premise business, improving guest-facing communications, making daily wellness checks of staff before they come to work, and boosting sanitation procedures.2
The data company Black Box Intelligence reports that operators are concerned about the short-term prospects of the dine-in business environment.3 But Black Box data aligns with research from AlixPartners regarding safety as the gateway to more on-premise business.3
"People will go to a restaurant if they feel comfortable and they feel safe," Black Box CEO Kelly Valade said, but she cautioned that consumers will limit their business to off-premise if unconvinced.3 Her firm's survey data show that operators are stepping up their safety protocols: 97% offer hand sanitizers throughout the restaurant, 96% require masks for all staff, and 86% removed some tables.3
On-premises or off, "you have to deliver on the basic needs right now," as Valade said.
When it comes to the basics and beyond for brand trust and culinary ingenuity, Mondelēz International Foodservice can help you boost business during the most challenging times. Share your challenges below now and learn how our chefs can help feed your bottom line when you need it most.
1 Jennings, Lisa, "Consumers are warming to dining out, but they want to feel safe, says AlixParners data," Nation's Restaurant News, Aug. 14, 2020
2 Ruggless, Ron, "Restaurants brace for a long ride on the coronavirus rollercoaster," Nation's Restaurant News, Aug. 13, 2020
3 Lawton, Scott, "Scott Lawton, CEO and founder of Bartaco, on why hospitality is safety, and the introduction of family packs to the menu," Nation's Restaurant News, Aug. 14, 2020