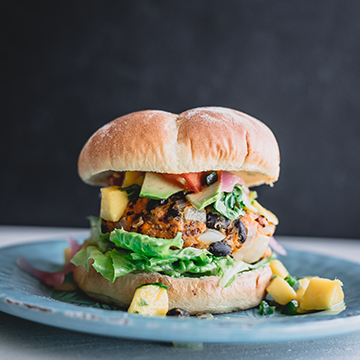 Given the heightened awareness of the importance of better-for-you and functional food options, it makes sense that demand for protein alternatives would grow exponentially during the pandemic.
As we reported in our 2021 Foodservice Trends: A Look at the Road Ahead report, 78% of consumers would like restaurants to menu more food and beverages with functional benefits.1 The consumer appetite for functional foods is robust, with 61% of those surveyed saying they're either extremely or very interested in them.1
"Operators can capitalize on the flavors of functional foods and plant-based ingredients to entice consumers and exceed their flavor expectations," the report states.1 Protein ranks as one of the top ingredients U.S. consumers are interested in trying.1
According to the data analytics and menu management and optimization company Revenue Management Solutions, 30% of consumers surveyed at the height of the pandemic said they would switch to restaurants that offer plant-based meat alternatives—an increase from 23% in early 2020.2 Revenue Management Solutions found that the sustainability aspect of meatless alternatives has become even more appealing than their functional value.2
With operators responding to rising demand, the market research firm Technomic projects more plant-based proteins to spring up on menus, growing nearly 35% by the end of 2022.2 And while burgers and sausage patties have been at the forefront of the plant-based revolution, chicken, pulled pork, eggs and crab are now among the products with plant-based alternatives.2
Lab-Grown Meat Nibbles Its Way Into Market
Just as plant-based burgers went from seeming impossible to a growing brand named Impossible, meatless options for other protein foods are on the horizon. Technomic predicts that alternatives in other food categories—from fish and lamb to frog legs and crayfish—will make inroads in the flourishing plant-based market, while chains will increasingly introduce in-house nonmeat and nondairy items to their menus.2
While still in its early stages of market development, lab-grown meat is an increasingly high-profile reality as an alternative form of protein. Now approved for public consumption in Singapore, lab-grown meat manufactured by the San Francisco-based company Eat Just is being marketed to restaurants as "cultured chicken."3 Eat Just gained notoriety with the introduction of its egg-free and cholesterol-free Just Mayo and Just Egg product lines made from plants.
Also known as "cell-based" meat alternatives grown in a lab from actual animal cells, lab-grown meat varieties may make more headway among consumers who demand sustainable and humanely sourced and sustainable food options. "That means that the same people who gravitate toward natural, organic and GMO-free items could also be drawn to the lab, where food is made without harming animals and with minimal environmental impact," Nation's Restaurant News Senior Editor Brett Thorn explains.3
At Mondelēz International Foodservice, our time-honored brands, trusted ingredients and team of culinary experts are renowned as menu boosters for foodservice operations worldwide. We offer the insight to help you develop the ideal menu mix to maximize sales. Contact us below to learn what we can do for your operation.
1 2021 Foodservice Trends: A Look at the Road Ahead (Mondelēz International Foodservice, December 2020), p. 4
2 Cobe, Patricia and Lalley, Heather, "The future of plant-based meats and proteins," Restaurant Business, Feb. 2, 2021
3 Thorn, Brett and Kruse, Nancy, "With Singapore giving the green-light to lab-grown meat, when will it hit American restaurants?" Nation's Restaurant News, Feb. 17, 2021