Posted in Technology on December 1, 2020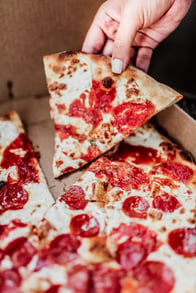 Strong off-premises capabilities have become the not-so-secret sauce of success for foodservice operators during the COVID-19 crisis. Pizza chains in particular have become delivery powerhouses.
Now, pizza giant Papa John's has reasserted its status as a Big Daddy of delivery, serving up a robust third quarter performance that included a 23.8% increase in same-store sales in North America and 20.7% sales growth internationally.1
The chain's recipe for resiliency fuses menu innovation and delivery to drive sales growth. New menu items like the Shaq-a-Roni—an extra-large pizza created in partnership with pro basketball legend Shaquille O'Neal and topped with extra cheese and end-to-end pepperoni—have helped Papa John's achieve its most impressive balance sheet in three years.1

Tailored to changing consumer behavior, ticket add-ons are also adding up to a hearty boost for the bottom line. The pizza chain's popular Papadias—a mashup that merges pizza and calzone in a flatbread-style sandwich—is an example of the new items driving higher check averages.
"What we're finding is that our new items like the Papadias are incredibly incremental," explained Ron Lynch, CEO of Papa John's. "People are adding Papadias to their regular pizza order, which creates ticket growth."
Core pizza innovation is also a priority. "We just launched the double cheeseburger pizza and double cheeseburger Papadia," Lynch continued. "I can see that going on for a while, where we're able to leverage innovation in both pizza and Papadias. It's easy on our supply chain and on operations, so it's a great opportunity."1
The menu innovation pipeline has helped propel third-party delivery sales, which have tripled in 2020, as well.1 Digital is the chain's fastest-growing platform, accounting for approximately 70% of sales, according to Lynch, who called third-party aggregators "part of our profitability growth story."1 In the last quarter alone, Papa John's acquired 8 million new members through digital channels, and it plans to customize member discounts based on purchasing patterns.1
Data from the market research firm Technomic confirms that the pizza category is showing sustained popularity. In fact, Technomic found that 69% of surveyed consumers choose to carry out their pizza, while 71% opt for delivery.2
Pizza also claims a big slice of the pie as an off-premises lunch option. It ranks No. 3, just below burgers and sandwiches, with 52% of consumers choosing delivery and 48% favoring takeout.3 Technomic cites pizza's "portability and ubiquity at restaurants, particularly at fast-food concepts" as factors in its enduring appeal.3
Though not as well-known as Papa John's, the Marco's Pizza chain has cashed in on pizza's perpetual popularity with heavy investments in off-premises business and delivery capabilities, resulting in a 24% boost in same-store sales.4 Spurred by the pandemic, Marco's Pizza moved swiftly to meet the changing needs of consumers and employees with new technologies such as kitchen automation, smaller pod kitchens, and virtual restaurants.4
"We took quick steps to adapt our approach to technology to make sure that, for example, contactless delivery was something we got in front of," said Tony Libardi, president and chief operation officer of Marco's Pizza.4 "We started looking at developing automation in order to, again, keep employees safe. We embarked on a whole new internal strategy in terms of automation and other technology based on our employees and customers' safety concerns."4
For innovative culinary add-ons, creative pizza concepts, and fresh ideas to enhance any menu, trust the acclaimed chefs and world-renowned brands at Mondelēz International Foodservice. Any challenges or opportunities we can help you navigate? Reach out below for a taste of what we offer.
1 Fantozzi, Joanna, "Papa John's delivery performance remains strong as company swings to a profit," Nation's Restaurant News, Nov. 5, 2020
2 Delivery & Takeout Consumer Trend Report (Technomic, 2020), p. 108
3 Delivery & Takeout Consumer Trend Report (Technomic, 2020), p. 107
4 Fantozzi, Joanna, "Marco's Pizza bets on delivery technology, automation and ghost kitchens" Nation's Restaurant News, Nov. 6, 2020