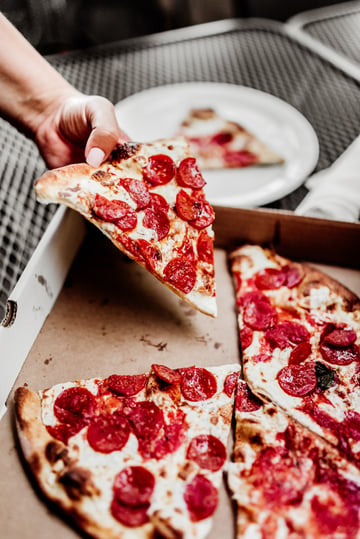 Any way you slice it, pizza has proved to be a reliable source of sales. The COVID-19 outbreak merely expanded the segment's already robust off-premises channels.
Pizza chains had powered sales through delivery and takeout long before other segments had to pivot to offsite channels. A perennial takeout favorite, beloved by operators and consumers alike for its portability and versatility, pizza picked up speed as a sales engine during the pandemic, when dine-in shifted from more than half of all pizza sales to just a third, according to the market research firm Datassential.1 Delivery gained ground, increasing to 19% on average, but takeout was tops, carrying away almost half all pizza sales.1
The consumer appetite for pizza remained ravenous during the pandemic; the crisis simply turbo-charged the shift in consumption to takeout and delivery. In fact, 88% of consumers surveyed are eating more, if not the same, amount of pizza as they did last year.2
Now Pizza Hut is entering the fast lane of pickup with the Hut Lane, "a dedicated digital pickup window at 1,500-plus locations around the country, with more on the way," Nation's Restaurant News reports.3 An addition to curbside pickup, which the company introduced in April 2020, the new feature enables customers to order through the brand's app, website or by phone and get their food at the window in the pickup lane.
Pizza Hut's mix of menu innovation and tech innovation has been the secret sauce of its success during the pandemic. As Nicolas Burquier, the chain's chief customer and operations officer, explained: "Not only do we offer industry-leading, innovative menu items that are only available at Pizza Hut, but we also offer several digital-first pickup options for our customers, and the Hut Lane is a great example of that."3
The Hut Lane is part of the brand's strategy to make the customer experience seamless. "As we transition into the Pizza Hut system, we are excited about the Hut Lane and the seamless customer experience it offers," said Ron Bellamy, chief improvement officer of Flynn Restaurant Group, which owns 925 Pizza Hut locations and other restaurant franchises. "We know from our QSR experience how much value a pickup window can unlock for the business, and we plan to prioritize the Hut Lane in future builds and relocations of existing stores." 3
With the introduction of the Hut Lane, Pizza Hut is positioning itself to take advantage of steady demand for the foreseeable future. (Per Datassential, 95% of operators expect their pizza sales to grow or remain the same next year.2)
Hungry for More: Pizza Profits Poised to Rise
Opportunities to grab a bigger slice of the pie abound for pizza restaurant operators. Pizza loyalty programs are popular, and while 45% of surveyed consumers are already enrolled in one, the remaining 55% are not, paving the way to acquire more members and boost repeat business.4
What's more, only 20% of operators surveyed offer a pizza loyalty program.4 By introducing one, they could increase customer loyalty and lifetime customer value.
In terms of menu enhancements, stuffed crusts are in demand: 56% of surveyed consumers expressed interest in them, yet only 19% of operator survey participants offer them.5 Stuffing crusts with extra ingredients allows chefs to apply their culinary ingenuity and get creative with signature pizzas that could boost sales and make their operation the go-to source for consumers' favorite pizza offering.
Let the chefs at Mondelēz International Foodservice develop signature pizzas, dishes and desserts to help drive sales on-premises and off. Reach out below to learn how our unique combination of culinary innovation and brand excellence can be your recipe for success.
1 Pizza: A SNAP! Keynote Report (Datassential, April 2021), p. 4,
2 Pizza: A SNAP! Keynote Report, p. 2
3 Fantozzi, Joanna, "Pizza Hut is launching a digital pickup window at 1,500 restaurants," Nation's Restaurant News, March 30, 2021
4 Pizza: A SNAP! Keynote Report, p. 5
5 Pizza: A SNAP! Keynote Report, p. 7