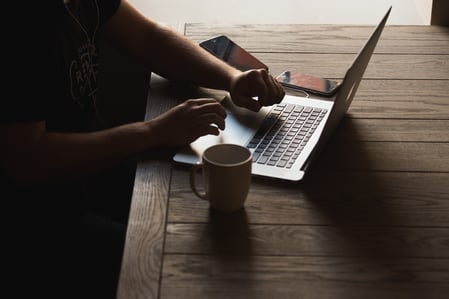 When it comes to snack sales, the Internet and consumers are starting to click. According to NPD Group, a leading market research firm, snack manufacturers are biting off bigger chunks of market share by tapping the consumer's appetite for online shopping.
In fact, while the online channel remains small, it's one of the fastest-growing sources of ready-to-eat snack purchases, in contrast to traditional channels such as grocery and discount clubs, which tend to plateau or decline.1 As consumers turn more and more to digital devices as the preferred platforms to fulfill their wants and needs, online snack sales are poised to continue their upward arc.
A few highlights from NPD's Findings:1
Salty, sweet and better-for-you varieties are the top snack foods purchased online, offering a longer shelf life, a stable form for shipping and cost-effective pricing in bulk quantities.
Consumers are turning to the online channel for premium snack foods that are hard to find in traditional channels.
Taste is an especially strong driver of online snack purchases–an indication that consumers may be stocking up on favorites online rather than seeking out new options.
NPD research also shows that the online channel is attracting consumers who value ease and convenience. Thirteen percent of snack foods purchased online are used as meal substitutes–slightly higher than for total channels–while 85% are eaten with no one else present and 22% are consumed at work or on the go.1
With an annual household income of $75,000 or better,1 online snack purchasers are just starting to offer foodservice operators a taste of their purchasing power and help drive the growth of digital snacking trends.
On the Verge of a Surge
Given the sheer size of the digitally oriented millennial market, foodservice customer service may find itself catering to growing demand for online access to popular snacks. A Harris poll found that online food shoppers are often millennials: 36% of 18- to 34-year-olds reported that they purchased food online in the first half of 2016.2
Since millennials spend so much time in digital environments, online can be expected to emerge as a robust channel for millennial snack trends, which favor bold and eclectic flavor profiles. Snacks are the most commonly purchased food items offered online, and while the 20% of U.S. consumers who report buying them over the Internet2 may seem marginal, their ranks can be expected to swell significantly. As a result, the online snack market may be on the verge of a surge.
What's Next? Sweet Possibilities
So how can foodservice operators tap into the growth of online snack purchases? David Portalatin, vice president and food industry analyst at NPD Group, offered a few suggestions. "Snack food manufacturers can take advantage of online purchasing by exploring creative digital marketing strategies, like visual storytelling around the taste or health attributes of the product, or quick click links that auto-populate the consumer's cart with candy, sweets, and healthy snacks," he said.1 "Manufacturers can also market directly to the online snack food consumer with bulk or premium offerings of convenient on-the-go and single serve snack foods."1
As online ordering becomes more navigable, snack manufacturers are able to sell products directly from their own websites. With the evolution of e-commerce software and data analysis, they can gather information on visitors' shopping preferences and serve up online snack options that are targeted to the customer's profile.
Forming partnerships with online retailers and meal kit and subscription delivery services is another option for manufacturers that want to grow online snack sales.
What developments do you foresee for the online snack market? How do you think online ordering is affecting menu innovation and millennial snack trends? Unwrap a few choice thoughts below.