Posted in Brunch on April 24, 2017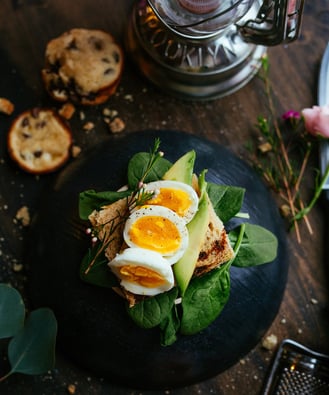 As the foodservice trend of snacks as meal replacements whets consumers' appetites for grab-and-go options that complement their busy lifestyles, dayparts are becoming increasingly snackified.
In its 2016 Snacking Occasion Consumer Trend Report, the foodservice market research firm Technomic determined that snacking consumption has grown steadily since 2012, especially over the last two years, with 83% of consumers snacking on a daily basis in 2016 vs. 76% in 2014.1
Competition for high-margin snacking occasions is heating up, compelling foodservice operators to spur menu innovation and focus on providing a wide range of snack options throughout the day. While quick service establishments like coffee shops and bakeries are already equipped to benefit from the rise of serial snacking trends, other foodservice operators will need to adapt to meet growing demand for daypart snackification.
Snack Attacks Hit Restaurants
Snacking is picking up speed at restaurants, according to Bonnie Riggs, an analyst for NPD Group, which provides industry analysis and advisory services to the foodservice industry. "Afternoon snack is the strongest-performing meal occasion for the year," Riggs says, referring to NPD research for the year ended September 2016, which showed that nearly half of all snack visits occur in the afternoon.2 Evening snacking accounted for 30% of all snack occasions, followed by morning snacking, which consumed 23% of the snack market.2
Riggs explained that "with so many snacks occurring in the afternoon, the meal occasion that is most vulnerable is lunch. What we're seeing now is trade-down from lunch."2 As lunch as a meal occasion declines at restaurants, the onus is on restaurant operations to adapt their menus to offer quick and easy snacks as lunch items. While some foodservice operators are adding unique snack items to their menus, others are recasting existing menu items as snacks.
At the forefront of the grab-and-go revolution driving the snackification of dayparts, QSRs continue to be popular, with 51% of consumers visiting fast-food restaurants on a weekly basis, and 40% patronizing fast-casual establishments.3
Meanwhile, the shift continues from the once-dominant super-size trend, when more and bigger was better, to lighter and better-for-you items that take less of a bite out of the consumer's budget. In addition to the appeal of portability and convenience, low-calorie snacks tend to offer high value in comparison to more-costly and less-nutritious traditional daypart meals.
No Break from Breakfast
All-day breakfast items are serving high demand at QSRs, according to Technomic,1 while NPD research cites the breakfast sandwich as the fastest-growing snack consumers turn to throughout the day.2 NPD found that the popularity of breakfast sandwiches has grown by double digits across all meal occasions.2
With their small portion size and easy-to-swallow price point, breakfast items positioned as nutritious snack options have strong appeal for consumers looking for a quick bite to tide them over to the next meal.
As David Sprinkle, research director for the market intelligence firm Packaged Facts, points out, "foods traditionally associated with the breakfast daypart can also find success during other parts of the day and/or as a snack."3 While yogurt is a popular example of a food item that doubles as a breakfast staple and a snack with better-for-you appeal, other breakfast foods that are becoming snackified include bacon (43% of consumers eat bacon for breakfast, versus 16% as a snack), cold cereal (55% versus 25%), and even pancakes/French toast (33% to 13%).4
How has the rise in anytime eating helped to reshape your menu? Any thoughts on how to drive a higher check average with better-for-you snack substitutes for traditional daypart meals? Share a few morsels of wisdom below.
1 Technomic, Snacking Occasion Consumer Trend Report, 2016
3 Technomic, Future of LSR: Fast-Food and Fast-Casual Consumer Trend Report, 2016