As busy, health-conscious consumers continue to embrace better-for-you snacking as a source of smaller, quicker meals, the popularity and diversity of staples like yogurt grows. Roughly one quarter of consumers tend to snack in the morning instead of having a full meal,1 and yogurt's portability (especially in single-serve packs) and versatility (it's often combined with fruits and other toppings) make it an especially appealing breakfast option. No wonder 39% of adults nosh on yogurt as a snack, and 44% eat it for breakfast.1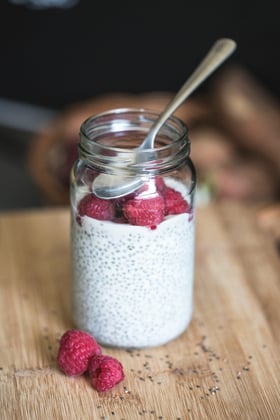 What's more, yogurt is diversifying and expanding into other dayparts as a grab-and-go substitute for other meals and a convenient, anytime snack. To leverage this foodservice trend and reach a wider audience, manufacturers are increasing the emphasis on higher nutritional value and lower sugar content, as well as shifting focus to specific niches, including dessert, digestive health, children and babies, and active lifestyles.
From Fermentation to Segmentation
As Cindy Sorensen, vice president of business development for the Midwest Dairy Association, explained: "The current niche segments are in whole fat and dessert yogurt items. These are growing and consumers are willing to pay a premium for them."2
Dessert-like yogurts in flavors such as mint chocolate chip and raspberry chocolate chip have made inroads into the evening daypart. A yogurt substitute for dessert, Sorensen says, "fulfills consumers' need for health and wellness, but also provides some indulgence through whole-fat yogurt, or add-ins such as candy and cookies to mix-in."2
Sorensen noted that with Greek yogurt sales on the decline, the timing is right to reach a wide audience through segmentation.2
Up, Down and Back Up Again
While the yogurt category saw dollar sales rise 3% to $7.6 billion and unit sales edge up 1.2% to 5.1 billion for the 52 weeks ending February 21, 2016,3 the double-digit growth Greek yogurt once enjoyed has tapered off. One of the premier Greek yogurt brands saw its sales skyrocket from just shy of $3 million to in excess of $1.1 billion in its first five years.4
But spoonable Greek yogurt has yielded ground to yogurt drinks, which offer even greater portability and convenience as a spoon-free alternative to the protein-rich staple. Sales of yogurt drinks increased 62% over the last five years and were expected to rise another 11% by close of 2016.4
Projected to hit $9.1 billion in combined sales by year end,4 yogurt and yogurt drinks are showing staying power. As manufacturers continue to explore ways to add flavor while reducing sugar, retaining protein and eliminating artificial preservatives and ingredients, spoonable and drinkable yogurt are expected to gain greater popularity among millennials, who tend to gravitate toward clean label snack options.
According to Mintel Senior Analyst Beth Bloom, "A growing acceptance of yogurt as a snack creates huge opportunity for the market. As adoption of yogurt drinks grows, so too does innovation."4
What's Next: Savory and Sweet Meet
With its combination of convenience and nutrition, yogurt seems poised for continued growth, provided it can accommodate millennial demand for innovative and unusual flavor experiences. Because of how easily it incorporates mix-ins like cereal, nuts and fruits, yogurt lends itself to flavor innovations and the build-your-own foodservice trend.
Pairings of savory and sweet are also introducing new flavors into the category, driven in part by the millennial appetite for heat. As a result, yogurt brands are experimenting with sweet heat, like Sriracha and mango, as well as creative and exotic flavor profiles including cucumber mint and Mediterranean-inspired spreadable yogurts, and yogurt smoothies featuring rose petal, barberry and yellow cherry.3
Other companies are focusing exclusively on savory, forgoing sweet altogether in favor of vegetable varieties or yogurt with no additives or sugar.
"I think we are only seeing the beginning as the major players have yet to truly get behind these [savory] products," said Angela Fout, co-founder of a company that produces Lebanese-style savory yogurt. "We will see a lag, similar to the late adoption of Greek yogurt, and then it will be an explosion."3
Do you consider yogurt a growth category with the potential to help foodservice operators drive a higher check average? Any plans to tap into spoonable and drinkable yogurt as better-for-you snack trends? Top off this post with a few comments below.