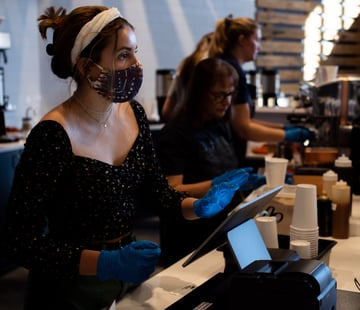 The pressure-cooker environment of the pandemic continues to compel operators to cook up innovative ways to drive business forward. Pent-up demand for on-site dining paired with robust off-premises capabilities developed throughout the pandemic is a recipe for success that's feeding the bottom line well these days.
The grim forecast at the height of the pandemic is much brighter, though clouds of uncertainty loom overhead in the form of coronavirus variants, supply chain snafus and labor issues. According to the market research firm Technomic, operator confidence in business survival has been trending steadily upward, from 19% in November 2020 to 74% in March 2021.1
Technomic has determined that the industry is undergoing the "Four S" Process of Recovery: survival, start, surge and strengthen.1 While foodservice is in the surge stage, operators are increasingly turning to technological innovation for the front- and back-of-the-house enhancements necessary to make the transition from surge to strengthen.1
Yum Brands Hungry for Tech-Savvy Staff
Tracy Skearns, chief operating officer and chief people officer for Yum Brands, parent company of Pizza Hut, Taco Bell, KFC and The Habit Burger Grill, offered food for thought on the tech-savvy worker with strong people skills needed for the restaurant of the future.
"I think the restaurant job of the future will really exist at sort of the connection point between incredible people skills and the ability to leverage technology," Skearns said during a keynote hosted by Nation's Restaurant News. "Your talent in restaurant is going to need to be technically savvy, and they're going to be able to still manage the complexity of our restaurants."2
With 1.5 million employees at 5,000 restaurants,2 Yum Brands exemplifies the diversification of distribution points during the pandemic—a digitally driven shift toward curbside pickup, drive-thru and delivery. The workforce has also become more diverse. This dual diversification requires a high degree of tech and people skills, Kearns pointed out.
Innovation is also needed to modernize training. Kearns cites the HutBot app—a kind of digital training manual for Pizza Hut employees—as an example of the kind of technology needed to train a new generation of digitally native employees.
Focus Brands Zeroes In On Tech and Talent
Joe Guith, category president of Focus Brands, which owns Schlotzsky's, Carvel, Cinnabon, Moe's Southwest Grill, McAlister's Deli, Auntie Anne's and Jamba brands, also emphasized the link between successful staffing and technology optimization.
"I would say 90 to 95% of our transactions are now integrated with point of sale, it really is continuing to look at our staffing model and how we execute at these different channels," Guith said.3 "How do we leverage pickup windows for third-party delivery? How do we start sorting through these different order modes so that we not only continue to deliver a great guest experience, but we optimize for team member experience and ultimately for the franchisee to be able to do this properly?"3
Guith stressed the importance of "keeping the guests in mind" and ensuring that staff and technology work together to optimize the ease and convenience of the customer experience. "As you reduce frictions on both ends — operator included— that's where the experience gets better and better," he explained.3
While robotics and automation may ease dependence on labor, achieving a harmonious relationship between staff and technology remains critical. And finding the right menu mix for on- and off-premises is equally essential.
At Mondelēz International Foodservice, our acclaimed chefs are uniquely qualified to develop menu solutions with trusted ingredients from our world-renowned portfolio of brands. Reach out below to learn how we can help your operation successfully navigate the rapidly changing foodservice landscape.
1 State of the Industry, Technomic, June 2021
Ruggless, Ron, "Restaurant Worker of the Future needs heightened digital and people skills, expert says,"Nation's Restaurant News, Sept. 10, 2021
2 Fantozzi, Joanna, "Focus Brands keeps technology optimization top of mind," Nation's Restaurant News, Sept. 10, 2021