Posted in Technology on January 26, 2021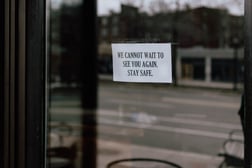 Tight margins and an increasingly competitive landscape may have given the foodservice industry cause for concern year after year, but nothing could have prepared it for the sweeping impact of COVID-19 in 2020. The seismic shift to off-premises channels as restrictions on dine-in service and prolonged suspensions of onsite dining took hold brought a feast of challenges and opportunities, changing the direction of foodservice for years to come.
Under extraordinary circumstances, many operators and restaurateurs reimagined their business models and helped reshape the industry. They earned observers' utmost respect and admiration for "the speed and grace, the agility and invention, with which they responded," as menu trends analyst and
Nation's Restaurant News
contributor Nancy Kruse wrote.
1
"These have been a true source of hope and pride that will endure long after this pandemic scourge finally ends."
1
While the National Restaurant Association estimated that the restaurant industry would lose $240 billion for the year, with at least 100,000 restaurant closures,2 2020 saw an astonishing surge in creativity, ingenuity and determination from operators, owners and employees. Here's a rundown of a few key trends that defined the year and set the course for foodservice in 2021 and beyond.
Virtual reality: In a pivot to cut costs, open new revenue streams and satisfy the consumer hunger for digital ordering, restaurants served up a smorgasbord of ghost kitchens (foodservice facilities designed exclusively for delivery, with no dine-in seating) and virtual brands (delivery-only offshoots of existing brands). The urgency of developing the most cost-effective off-premises channels possible led to the emergence of an estimated 100,000 concepts based on a delivery-only model.3 Fifty-one percent of restaurants were using a ghost kitchen to handle some or all of their delivery orders as of May 2020.4 Chicago's Kitchen United, for example, served up scaled-down, minimally staffed kitchens used by a variety of restaurants to prepare food for delivery and takeout. Virtual brands that debuted during the pandemic included Pasqually's Pizza & Wings, the pizza delivery concept from the Chuck E. Cheese chain of fast-casual family restaurants.
Contactless convenience: With consumers seeking a combination of convenience and safety, technology moved to the center of the plate. Mobile ordering became a must as people sheltered at home and grew to rely on takeout and delivery to reduce their risk of exposure to the virus. Forty-three percent of consumers surveyed said they want restaurants to be equipped to process payments through mobile, kiosk and tabletop technology. With 60% of consumers citing concerns over getting sick as deterring them from visiting restaurants,5 high demand for contactless foodservice led to technological solutions that reduce or eliminate human interaction. The Brooklyn Dumpling Shop in New York City created a COVID-19-era spin on the automat format with a completely contactless experience in which customers place orders by phone or onsite at hands-free kiosks. Food is placed in temperature-controlled cubbies that customers open with a smartphone app to retrieve their order.
Culinary agility: Travel-proof, tried-and-true takeout and delivery favorites such as pizza and wings drove sales, and menus were streamlined to reduce waste and improve margins. But 2020 also saw menu innovation hit the sweet spot with a focus on fun. "The unflagging popularity of s'mores, the beloved campfire treat, inspired ice cream, pie and doughnut versions, along with Starbucks' S'mores Frappuccino and Sonic Drive-Ins' Toasted S'mores Shake," Krause wrote.1 Sophisticated fare included the Surf N Turf appetizer featuring scallops, braised short ribs and gremolata from the upscale seafood-and-steaks chain Ocean Prime. As a limited time offer, Mexican fast food chain Del Taco tantalized tastebuds with its Epic Surf & Turf Burrito consisting of shrimp, carne asada steak, crunchy cabbage and creamy ancho sauce.
The acclaimed chefs and time-honored brands of Mondelēz International Foodservice can help your foodservice operation thrive in 2021. From signature dishes to scrumptious desserts, from delivery-friendly daily menu items to buzzworthy limited time offers, we offer the culinary ingenuity and brand trust to take your business to new levels in the new year. Contact us below to learn more.
1 Kruse, Nancy and Thorn, Bret, "The year that was and the year to come: Nancy Kruse and Bret Thorn reflect on the state of the restaurant landscape," Nation's Restaurant News, Dec. 24, 2020
2 National Restaurant Association, "100,000 Restaurants Closed Six Months into Pandemic," Sept. 14, 2020
3 Lalley, Heather, "Virtual Brands Emerge from the Shadows," Restaurant Business, Sept. 21, 2020
4 "3 Years in 5 Months," Restaurant Business, Jan. 3, 2021
5 Guszkowski, Joe, "With Health a Top Priority, Restaurants Race to Innovate," Restaurant Business, Sept. 24, 2020