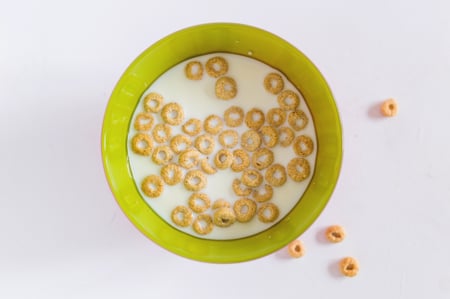 Soggy sales are putting a damper on the cereal market, sinking business for some major brands. The popularity of this once-perennial staple has been declining for years as consumer preferences have shifted to better-for-you and grab-and-go breakfast options.
Sales, which totaled $13.9 billion in 2000, sagged to around $10 billion in 2015.1 What's more, the category is expected to remain sluggish, with sales projected to reach only $10.4 billion in 2020.2 This summer, Kellogg's breakfast sales cooled down, dropping almost 7% compared to the same time last year.3 General Mills' cereal sales also fell 7% from a year ago,4 and Post has reported flat quarterly sales.5
Given the fact that cereal remains highly profitable (upwards of 40% of Kellogg's bottom line is bankrolled by breakfast foods3), foodservice operators can still milk cereal sales, especially among boomers who grew up on breakfast cereal. After all, a $10 billion-a-year industry is nothing to sour on. But the falloff has been steady as younger consumers bypass breakfast altogether or eat more convenient varieties of it on the go.1 In their quest for better nutrition, many are forgoing cereal in favor of hot grains, smoothies, yogurt or breakfast sandwiches.1

Boxed In: Cereals Reformulate as the Category Shifts
The market research firm Mintel has found that consumers have developed a preference for high-protein and fiber-rich options made with natural ingredients.2 According to Mintel, cereal is often perceived as overly processed and lacking adequate nutrients.2 While some manufacturers have reduced sugar content, eliminated artificial flavors and colors, and launched better-for-you brands, the image of cereal as a sugary breakfast indulgence seems difficult to shake.
In addition, the need for speed is making portability a priority with young parents. As Amanda Topper, a Mintel food analyst, pointed out: "Americans don't necessarily have the time to enjoy a sit-down breakfast anymore and they're looking for portability. Convenience is more important to parents with lifestyle shifts and hectic day-to-day schedules."2
Nearly 40% of millennials surveyed by Mintel consider cereal inconvenient because it requires them to clean a bowl.1 Rory Masterson, an industry analyst for IBISWorld, another leading market research firm, explained how "people see eating cereal as time-consuming because it's not something you can do on the go, like eating a protein bar."2
Nutrition and Nostalgia Feed Foodservice Trends
Nutritious, convenient and available in a variety of flavors and forms, belVita Breakfast Biscuits have become popular the world over with wellness-conscious consumers who lead busy lives. Containing an average of 29% whole-grain cereals and at least 3 grams of fiber per 100-gram serving, they're a tasty source of on-the-go energy—as well as a reliable source of sales. The brand soared to high-single-digit growth in 2016, generating around $600 million in revenue.6
While nutrition and convenience have become foodservice priorities that have popularized breakfast bars, a taste of nostalgia could be a potent way to woo consumers back to the cereal bowl. As a result, Post, the third-largest cereal maker in the U.S., has reintroduced the popular OREO O's cereal after a 10-year hiatus.7
The appeal of nostalgia is especially strong among older consumers, with nearly half of boomers surveyed saying the cereals of their childhood remain their favorites.1 But millennials may have also developed a yearning for yesteryear. Launched in 1998, with a nearly decade-long run, OREO O's seems bound to bring back fond memories for millennials who are now old enough to be prone to nostalgia. Spoon-feeding consumers sweet memories and satisfying a hunger for their days is a recipe for success.
Any out-of-the-box ideas on how to feed your bottom line with hot and cold cereals? Want to learn how trusted brands like OREO and belVita can help make your breakfast sales rise and shine? Pour on your feedback below.