Posted in Trends on February 15, 2022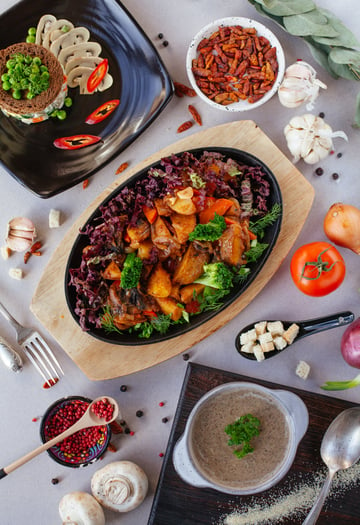 There may not be any crystal ball to tell us what the foodservice industry can expect this year and beyond, but there is a feast of research to dig into. So let's serve up a few juicy morsels that are sure to whet your appetite for what's on course for the foreseeable future.'
While major restaurant chains have adapted and even thrived during the COVID-19 outbreak, the persistence of the pandemic is still being felt in supply chain disruptions, labor shortages and inflation increases.
But the pandemic has not only turbo-charged a shift to digitally driven off-premises channels; it has also re-oriented the consumer consciousness, instilling a better-for-you mindset and preoccupation with wellbeing and safety.
Survey results from the market research firm Datassential reveal that "67% of consumers think there will be another pandemic of the same scale as the COVID-19 pandemic—or larger—in the future."1 This concern keeps culinary-supported wellness and functional food benefits top of mind, compelling consumers to "incorporate more immune-boosting and plant-based foods into their diets."1 Eighty-seven percent of consumers expressed interest in foods and beverages with functional benefits, and over half said they were very likely to purchase them.1
From KFC's Beyond Fried Chicken to Burger King's Impossible Whopper, fast-food chains have been quick to add plant-based items to their menus, as high demand provides a catalyst for more protein alternatives.
Fast-casual chain Chipotle Mexican Grill has introduced a plant-based version of one of its most popular menu staples, chorizo, a highly seasoned ground pork sausage. As Chris Brandt, Chipotle's chief marketing officer, explained: "We are thrilled to introduce guests to our new, flavor-packed Plant-Based Chorizo during a season when healthier options are top of mind. Plant-Based Chorizo is our best chorizo ever and proves that you don't have to sacrifice flavor to enjoy a vegan or vegetarian protein."2 The item is available at Chipotle locations in the U.S. for a limited time.
Meanwhile, Taco Bell has been growing its own menu of plant-based options, including veggie chalupas, burritos and bowls, to ensure vegans or anyone interested in meat alternatives can get their Taco Bell fix too.
Contactless Technology a Nice Touch on Many Levels
While plant-based options continue to mushroom on menus to fulfill demand for better-for-you foods and beverages, operations are increasingly turning to technology to ease consumer concerns over safety. With 87% of operators surveyed crediting technology as a determining factor in their ability to survive the last two years,3 it stands to reason that the industry will rely heavily on technological solutions to bolster safety and boost sales.
According to the geofencing technology platform company Bluedot, consumers surveyed were most likely to spend the most money when ordering from a restaurant app (36%), followed by drive-thru (23%).4 Expect contactless customer experiences through digital innovations like apps and QR code menus to continue to increase sales and grow in demand for purposes of convenience as well as safety.
At Mondelēz International Foodservice, our acclaimed chefs use our trusted brand ingredients to create a wide variety of dishes, desserts and beverages to feed your need for sales on premises and off. Browse our Chefs Culinary Corner for inspiration and tips on creating menu success. Contact us to learn how they can custom-create concepts to meet your operation's unique needs.
1 Datassential Trendspotting, Vol. 96, Future Food, Foodbytes 2022 Trends
2 May, Laurent, "3 technology trends that will shape how restaurants function in 2022," Nation's Restaurant News, January 13, 2022
3 PR Newswire, Chipotle Launches Plant-Based Chirozo and New Lifestyle Bowls, January 3, 2022
4 Bluedot, The State of What Feeds Us, Vol. 5, September 2021