Posted in Donuts/Pancakes/Waffles on January 23, 2018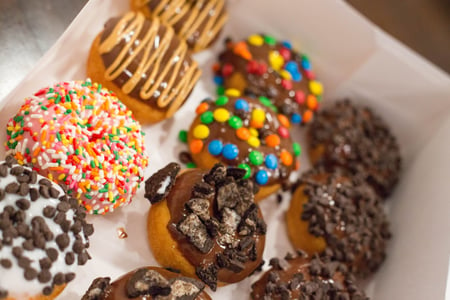 Donuts are on the rise. Though a longtime traditional staple of the breakfast daypart, they're sweetening sales numbers at later hours too with endless varieties and flavor combinations. Innovative donut shops and donut-driven foodservice operations are baking big business across the country, and U.S. retail sales are soaring.1
Supermarkets and convenience stores sold $1.97 billion worth of donuts for the 52 weeks ending November 27, 2016—up 3.4% from the previous 52 weeks.1 Sales of fresh donuts have risen an average of 5.2% over the past four years.1
Krispy Kreme Doughnuts, a category leader, expanded from 1,003 stores worldwide at close of first quarter 2015, to 1,133 when the first quarter ended the following year.1 JAB Beech, Inc. acquired the donut dynamo in 2016 for a total equity value of approximately $1.35 billion.1
All Rise: Donut Sales Set to Soar Higher
With the donut no longer limited to breakfast-staple status, sales seem poised to continue their rise. As Will Slabaugh, managing director of the financial services firm Stephens, said: "This is much more of treat business than a breakfast business."2

The pastry is no patsy in the battle for baked goods supremacy. Instagram data shows that three specialty donut shops—Café du Monde in New Orleans, the Portland, Ore.-based Voodoo Doughnut and California Donuts in Los Angeles—topped the 15 most-photographed bakeries and cafes that appeared on user feeds in late 2016.1
Not only are donut sales rising; so are prices. Once considered primarily a budget breakfast item, donuts have gone gourmet, giving rise to a proliferation of specialty shops that sell them for $3 to $4 a piece.1 (The trend is also international, culminating in London's Dum Dum Donutterie, which gained renown for its $1,975 donut topped with Cristal champagne, caviar, gold leaf, Tahitian gold vanilla beans and Italian-made Amedei Porcelana chocolate.1)
According to Forbes, "Every major city in the country, and many smaller ones, now boast upscale doughnut shops, with exotic toppings and prices to match."3 The cost for these trendy treats often exceeds $30 a dozen, with an endless array of toppings, including fresh fruit, single-note chocolate and maple bacon.2
Menu Innovation Remains a Must
Freewheeling creativity seems to be the key to success for foodservice operators who want to keep donuts fresh in consumers' minds and sales rising. Blue Dot Donuts in New Orleans makes 50 varieties every day and sells 100 dozen donuts on weekdays (more on weekends).3 Ronald LaPorte, Blue Dot's co-owner, attributes the shop's success to bold experimentation.
"We are willing to try anything on a donut," he said.3 "We once entered a local festival and smoked some pork butts and put it inside of our unglazed éclair style bun. We added an Asian slaw and won the best meat category."3
Oklahoma City-based Belle Kitchen has gained fame for its fresh, square donuts made by hand, landing it on the Travel Channel's "Best Doughnut Shops in America" list.1 "We use only the very best ingredients," said founder Cheryl Davenport, the bakery's founder. "Our dough takes about 24 hours to produce and results in a light and fluffy donut that is perfectly complemented with fresh, seasonal, super flavorful glazes like roasted strawberry lime, vegan hibiscus, bacon maple, gluten-free mixed berry and black cocoa powder old fashioned donuts."1
In an interview with CNBC, Nigel Travis, CEO of Dunkin' Brands, operator of the Dunkin' Donuts chain of bakeries, said: "You're seeing a trend toward more indulgent doughnuts."4 In response to demand for rich, delicious flavor profiles, Dunkin' has partnered with Mondelēz International to offer CHIPS AHOY! cookie crumble and OREO cookies cheesecake square donuts.4
How are you capitalizing on the donut craze? Share your thoughts below and let us know if you'd like to explore how we can help make your donut sales rise.