Posted in Takeout on September 14, 2021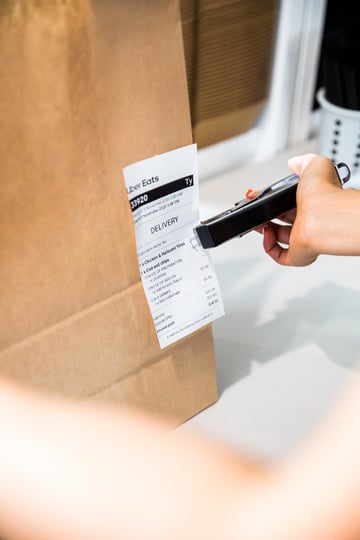 The link between digital innovation and revenue generation has become stronger than ever, thanks to the pandemic-propelled surge in off-premises business. To streamline ordering, payments, and takeout and delivery, foodservice operators served up a feast of mobile apps and other digital customer service capabilities.
Now well-versed in the ease and convenience of digital, operators and customers alike have a heightened sense of its value as foodservice navigates a promising yet cautious path forward.
According to survey data from the market research firm Technomic, this heightened awareness is driving further investment in digital "as delivery continues to earn a larger share of sales at concepts such as Applebee's and IHOP."1
In fact, 68% of operators surveyed plan to increase tech spending during the next two-year stretch—not only on consumer-facing initiatives but also on digital solutions to back-of-house operational inefficiencies and labor contrainsts.1 "POS integration, scheduling software and inventory management tools will be crucial," Technomic reports.1
Technomic sees tech investment as of one of the top midyear trends, with a revised on-premise forecast "as key segments show higher than (originally) expected growth occurring in 2021 and into 2022."1 Even the uncertainty surrounding vaccination rates and the delta variant could spur further development of digital capabilities for convenient contactless service and an increasingly seamless end-to-end customer experience.
Digital Makes a World of Difference for Dine Brands Global
Despite this uncertainty, Dine Brands Global credits digital investments as pivotal in paving the way for its second quarter recovery. DBG owns Applebee's, which posted a 10.5% increase in two-year comparable restaurant sales, and IHOP, whose two-year comps improved significantly—down 3.4% compared with the negative 21.2% for the first quarter.2
The company's CEO John Peyton cites the "one common digital architecture" both brands share as "the most robust delivery of digital tech in Dine Brands' history."2 The scope of the tech integrations is broad and multifaceted, including from a new customer relationship management system and digital platform for greater data collection and target marketing.
What's more, website and app upgrades and a streamlining of the order system mean guests can customize orders off the menu with ease. Guest arrivals are tracked with geofencing technology, and artificial intelligence powers an automated voice ordering system at an Applebee's call center. Dine Brands Global also has an ambitious new loyalty program in the works for IHOP.

Taco Bell Ready to Ring Up Huge Sales with New Drive-Thru Tech
Meanwhile, Taco Bell is leveraging digital technology to take drive-thru to the next level in the fast-food segment's race to make picking up food quicker and easier. The Mexican chain's drive-thru of the future, dubbed The Defy, will boast four drive-thru lanes to accommodate the brand's growth in mobile and takeout orders.

The logical progression from Taco Bell's Go Mobile concept, the two-lane drive-thru prototype introduced last year, The Defy is the brainchild of franchise operator Lee Engler, CEO of Border Foods. The design firm Vertical Works Inc. brought the new concept to life with a two-story, multilane prototype that doesn't require a larger footprint than the typical Taco Bell restaurant.

"We didn't want to be capacity constrained, so one of the ideas was with the speed we can deliver," Engler explained. "Having three or four lanes would make it so there's never any cars waiting."3 Designed specifically for mobile orders and to-go business, The Defy won't have indoor seating—only a few outdoor patio seats—though guests have the option of ordering inside. Taco Bell's revolutionary next-gen drive-thru is scheduled to premiere in spring 2022.
At Mondelēz International Foodservice, our distinctive combination of acclaimed chefs and trusted brand-name ingredients can help your operation achieve the right balance of on- and off-premise menu options. Contact us here or reach out below for expert guidance on how to navigate today's ever-changing menu trends.
1 Technomic, 2021 Midyear U.S. Trends Update, February 2021
2 Jennings, Lisa, "Investments in digital tech help drive recovery for Dine Brands Global Inc. in Q2," Nation's Restaurant News, August 5, 2021
3 Jennings, Lisa, "Behind Taco Bell's plan to win the drive-thru game with capacity-boosting new design,"Nation's Restaurant News, August 13, 2021