Posted in Promotions on March 2, 2021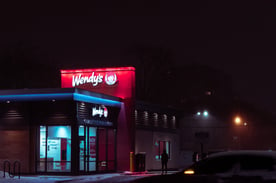 For many operators in 2020, business slowed to a crawl—or worse. But while much of the restaurant industry has hobbled along or come to a halt, fast food chains have been quick to rebound from COVID-19.1
Case in point: McDonald's. The Golden Arches fell short of Wall Street's estimates for fourth-quarter earnings and revenue—in part because of European lockdowns and lagging international markets—but same-store sales in the United States increased 5.5% on the strength of the burger giant's promotions and marketing.1 That's the chain's second consecutive quarter of positive U.S. same-store sales1, which are expected to continue to sizzle.
According to Kevin Ozan, McDonald's chief financial officer, estimated sales for January were in the high single digits, helped by an infusion of spending from government stimulus checks.2
Key factors that drove the McDonald's success include the popularity of its drive-thrus, celebrity-sponsored promotions (the Travis Scott Meal, for example) and limited time offers like the long-awaited return of the McRib sandwich.1
"I do think that McDonald's has done a nice job of driving sales with the McRib with better marketing," UBS restaurant analyst Dennis Geiger told Yahoo Finance.3 "There will be a good catalyst path into at least the first part of 2021. So, from a sales perspective, there will be good numbers that you will see from them."3
In fact, the chain expects this year's systemwide sales to hit double digits and surpass the pre-pandemic days of 2019.1
Wendy's Scrambles to Serve Up Breakfast Sales
Meanwhile, Wendy's breakfast business has turned sales sunny-side up, despite launching in March 2020—the same month the World Health Organization declared COVID-19 a pandemic.4 Breakfast contributed 6.5% to same-store sales for the burger chain in the third quarter ended September 27.4 U.S. same-store sales growth for the quarter reached 7%.4
The Wendy's breakfast launch seemed to crack the code for success in the pandemic. "Here we are less than a year into it, and we're matching competitors who have been in the market for 50 years, literally going from a Breakfast Nobody to a Breakfast Somebody," said Carl Loredo, the chain's chief marketing officer.4
Wendy's Vice President of Culinary Innovation John Li attributes the success of the breakfast menu to its focus on comfort foods, including the Breakfast Baconator sandwich, the bacon-egg-and-Swiss croissant, the honey-butter chicken biscuit and Frosty-ccinos in chocolate or vanilla.4
"People are definitely looking for comfort," Li said.4
Li cited "flavors that really screamed breakfast," such as maple-honey butter and hollandaise accented with Swiss cheese, as key to the menu's appeal.4 Other ingredients in Wendy's recipe for breakfast success: the burger chain's "Breakfast Fast" drive-thrus, the growth of its digital and mobile ordering business, and the expansion of its delivery partners from one to four.4
With a distinctive combination of culinary ingenuity and brand equity, Mondelēz International Foodservice helps large chains and independent operators modify their menus to meet the demands of the ever-changing marketplace. Browse our Culinary Center for recipe ideas and inspiration.
Want to explore custom menu solutions for your operation? Looking to boost sales with a signature dish or unique limited time offer? Reach out below to learn how we can help make your dish wish list come true.
1 Lucas, Amelia, "McDonald's earnings fall short, hurt by European lockdowns, but sees this year's sales topping 2019," CNBC, Jan. 28, 2021
2 Balu, Nivedita and Russ, Hilary, "McDonald's expects U.S. to deliver 2021 growth after profit miss," Yahoo Money, Jan. 28, 2021
3 Sozzi, Brian, "The power of McDonald's McRib might shock Wall Street in January," Yahoo Finance, Dec. 30, 2020
4 Ruggless, Ron, "How Wendy's tackled pandemic challenges in breakfast launch," Nation's Restaurant News, Jan. 28, 2021