Posted in Trends on August 6, 2020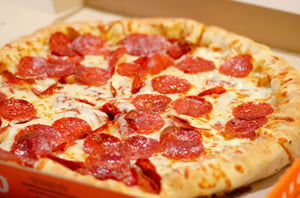 Even during a pandemic, pizza can be counted on to power sales and feed the bottom line. While other chains struggled to shift to off-premises channels to shore up business, pizza chains could rely on already well-developed delivery capabilities.
Domino's delivered a particularly strong second quarter that saw same-store sales up 16.1% nationally and 1.3%. internationally.1 U.S. same-store sales growth helped drive global retail sales growth up 5.7%. systemwide.1
The revenue engine behind Domino's success? "Nearly 75% of our sales in the U.S are coming through digital channels through the second quarter," said Domino's CEO Ritch Allison. "This combined with loyalty adoption give us a good proven change chance at driving additional customer frequency. I am glad more than ever that we have this direct digital and loyalty relationship with our customers and we are not dependent on third [parties] to bring us orders."1
Allison also cited menu innovation as an important factor fueling Domino's success. As a case in point, the chain recently started marketing new-and-improved chicken wings, which were developed based on customer feedback. He added that everyday value is more important than ever given the economic challenges and uncertainty the pandemic presents for consumers.1
Revenues for the second quarter grew 13.4% to $920 million—up from $811.17 million in the same period a year ago.1 What's more, while other chains were closing locations, Domino's opened 84 new stores systemwide, including 39 in the U.S.
Delivery the Secret Sauce of Pandemic Pizza Sales
Preliminary second-quarter results for Papa John's surpassed even Domino's, as the pandemic allowed the chain's off-premises capabilities to shine.
"In May, for the second straight month, Papa John's team members and franchisees delivered the best sales period in the company's history," says President and CEO Rob Lynch. "We entered the pandemic with strong growth and momentum, and are fortunate that our delivery and carryout model has enabled us to meet an essential need for high-quality food, safely delivered to consumers' homes."2
For the first four weeks of the second quarter, Papa John's same stores sales grew 26.9% in North America. Internationally, sales lagged, at 1.4% growth, due in part to store closures.2 The second four weeks of the quarter saw domestic and global markets trend up—up 33.9% for North America and 7% internationally.2
From the early stages of the outbreak, Pizza Hut began grabbing a bigger slice of the sales pie, as the chain's carryout and delivery business recorded record sales.3 The results stood in stark contrast to Taco Bell, which had been outperforming the pre-pandemic Pizza Hut. The Mexican fast food chain suffered "significant traffic declines during the breakfast and late-night occasions," according to Yum Brands, which owns both Taco Bell and Pizza Hut.3
Pizza Hut's success stands as another example of the off-premises resiliency of the pizza segment in the age of COVID-19. "In our delivery and carryout-only focused restaurants, quarter-to-date same-store sales growth was approximately 15%, reflecting strength in our off-premises business," Yum Brands said in its latest earnings call.
At Mondelēz International Foodservice, our expert chefs cook up innovative solutions to today's menu challenges. Browse our dessert pizza recipes in our Culinary Center, where you'll also find a wide range of culinary creations. Any particular menu items you'd like to explore? Let us know below.
1 Fantozzi, Joanna, "Domino's CFO Jeff Lawrence announces retirement as pizza chain posts 16% same-store sales surge during the coronavirus pandemic," Nation's Restaurant News, July 16, 2020
2 Fantozzi, Joanna, "Papa John's and Domino's continue to show delivery dominance as nation recovers from COVID-19, according to business updates," Nation's Restaurant News, May 27, 2020
3 Luna, Nancy, "Role reversal at Yum Brands: Taco Bell hurting, Pizza Hut seeing record off-premise sales," Nation's Restaurant News, June 10, 202