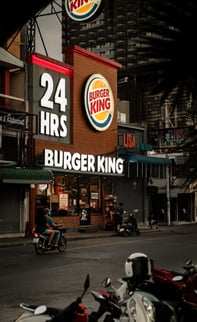 The pandemic has propelled the restaurant industry in different directions—some new and unexpected (think social distancing and face masks), others more familiar (the drive-thru, for example). In the case of takeout in general and the drive-thru in particular, "back to basics" has jumpstarted traffic and revved up revenue.
Now Restaurant Brands International—the parent company of Burger King—is beefing up the drive-thru experience with 40,000 digital screens; "predictive selling technology" (promotions based on order history, weather patterns, daypart and other factors); remote, contactless payments; and loyalty program integration. The rollout is taking place at more than 10,000 Burger King and Tim Hortons locations—and will launch nationally at Popeyes later this year.1
Burger King is transitioning from single to double drive-thru lanes with digital screens that offer a more personalized customer experience. "These updated menu boards offer a variety of advantages versus the legacy paper-based menu boards," Chief Operating Officer Joshua Kobza explained during RBI's third-quarter earnings call last week. "Key among them is the ability to adjust displays in real time to account for anything from weather patterns to the basket of items a guest has started to build while ordering."1
The digital screens have the capability via scanning, Bluetooth or near-field communication to accept mobile loyalty program rewards, and contactless payment modules eliminate the need for hand-to-hand payment interactions with staff.
The scale of all this modernization may be ambitious, but a robust ROI seems assured given RBI's drive-thru success. Drive-thru sales throughout the United States and Canada experienced year-over-year double-digit growth again in the second quarter. Total delivery sales soared well into the triple digits.1
The Golden Arches Revisit Recipes for Success
McDonald's has also leveraged the power and potential of the drive-thru during the pandemic via similar technological upgrades. But the burger giant is generating buzz (and business) with another back-to-basics strategy: celebrity promotions.
Hot on the heels of the huge success of the Travis Scott meal, which was created in collaboration with the rap superstar, McDonald's introduced the J Blavin meal. Named after the Colombian reggaeton singer who has sold 35 million records worldwide, the limited time offer was available Oct. 5 through Nov. 1. It consisted of a Big Mac sandwich, medium fries and an OREO McFlurry.2
With the Travis Scott meal, McDonald's returned to the celebrity promotion for the first time in nearly 30 years. Its previous collaboration with a celebrity dates to 1992, when McDonald's partnered with basketball legend Michael Jordan to launch the McJordan.2
In December, the burger chain will re-introduce one of its most iconic items: the McRib. But this time, the barbecue sauce-slathered pork sandwich will roll out at 14,000 locations nationwide.3 And for the first time, the sandwich will be available for delivery through Uber Eats and DoorDash.3
"The McRib has been a beloved menu item at McDonald's since its inception nearly 40 years ago," Linda VanGosen, McDonald's vice president of menu innovation, said in a statement. "There's nothing quite like the taste of the McRib. To our customers, it's become more than a delicious, saucy moment ... it's a season, and it's taking the internet by storm."3
Mondelēz International Foodservice has the time-honored brands and culinary ingenuity to help your foodservice operation thrive during challenging times. From appetizers to desserts to dishes for each daypart, we're here to help maximize sales and keep your customers coming back. Reach out below to learn about culinary solutions customized to meet your needs.
1 Ruggless, Ron, "Burger King parent Restaurant Brands International is modernizing drive-thrus," Nation's Restaurant News, Oct. 27, 2020
2 Luna, Nancy, "This time, McDonald's is ready for expected demand of next celebrity promo: The J Balvin Meal," Nation's Restaurant News, Oct. 5, 2020
3 Luna, Nancy, "McDonald's McRib to go national in December as foot traffic is down nearly 30%, data shows,"Nation's Restaurant News, Oct. 30, 2020