Posted in Trends on May 2, 2023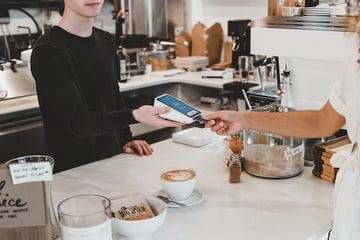 Foodservice has been feasting on opportunities with the fading of the pandemic, but there are also challenges that are tough to stomach. The mixed bag has been a pandora's box that tests operators' ability to adjust to the ever-shifting new norm.
But while the light at the end of the tunnel may seem elusive in a maze of twists and turns, the industry has managed to move forward as resiliency and ingenuity keep sales growth and investment strong. In our post "Happy Graze: Good News Feeds Foodservice Optimism," we explored the momentum that was mounting as 2022 drew to a close.
Now the positive outlook continues to surge, with foodservice sales projected to hit $997 billion in 2023, according to the National Restaurant Association's 2023 "State of the Industry" report.1 That's a 6.4% or $60 billion bump over the $937 billion last year (which, by the way, topped the $898 billion forecasted).1
That said, a challenging economic environment still hampers a return to pre-pandemic sales levels, and operators will need to demonstrate a dogged ongoing resourcefulness and bring fresh ideas to the table if they expect to thrive.
Hudson Riehle, senior vice president of research for the NRA, stressed the need for innovation. "Restaurant operators obviously have to look for creative solutions in this environment," he said. Pent-up demand is driving the need for greater operational efficiency and culinary creativity. While 84% of consumers surveyed would rather go to a restaurant than cook and clean, 47% of operators are bracing for intensified competition this year.1
Riehle expects innovation to drive an expansion of revenue streams, including subscription plans, meal bundles, prix fixe deals, meal bundles and branded merchandise like clothing.1
Strategies to Savor: Big Brands Bring Fresh Ideas to the Table
So what adaptive approaches are restaurant chains employing to weather economic head winds and ride the wave of change? Fast-casual chain First Watch has doubled-down on fulfilling high demand. The brand's strategy includes more locations and larger restaurants that use technology like fast-cooking, energy-efficient smart ovens, kitchen display systems and a front-of-house management system to streamline throughput.2
First Watch reported a 7.7% increase in traffic last year despite a 3% industry wide decline, and a 14.2% increase in revenues.2 What's more, same-store sales have surged almost 30% compared with 2019.2
"Considering our sales and traffic growth, our biggest opportunity is to serve more consumer-led demand, so our entire organization is focused on it," said First Watch CEO Chris Tomasso.2
Meanwhile, submarine sandwich chain Jersey Mike's has been serving up a feast of meaty marketing, including the return of its powerhouse Month of Giving, which raises money for local charities (and its corporate profile) every March. Signing on as a sponsor of the 2022 Special Olympics also helped raise the brand's profile as a company committed not just to making sandwiches but to making a difference as well.3
Last September, Jersey Mike's launched an ad campaign featuring famed actor, filmmaker and funnyman Danny Devito that uses humor to drive sales and awareness.3 This year, transactions have risen 7% and brand awareness has increased by nearly 8 points.3 The humorous, celebrity-driven campaign was a departure for the chain—a transitional strategy "to amp things up a bit," as Jersey Mike's CMO Rich Hope put it.3
As Riehle pointed out: "2023 is in many ways still a transitional year, but it is a year in which that 'new normal' has gained a greater presence of mind—both in the mind of the consumers as well as the operator."1
At Mondelēz Foodservice, we combine trusted brand ingredients with culinary innovation to help foodservice operations across segments achieve the right menu mix for success in an ever-changing competitive landscape. Hungry for inspiration and insights? Dig into our Culinary Corner for Inspiration Guides, chef-favorite recipes and more from our acclaimed team of word-class chefs and foodservice experts. Crave culinary concepts that help your menu stand out and keep customers coming back? Just reach out below.
1 Ruggless, Ron, "Foodservice sales to hit $997 billion in 2023, National Restaurant Association forecasts," Restaurant Hospitality, February 28, 2023
2 Kelso, Alicia, "First Watch's strategy is focused on fulfilling high demand," Nation's Restaurant News, March 7, 2023
3 Kelso, Alicia, "How Jersey Mike's marketing strategy evolved to include Danny DeVito," Nation's Restaurant News, February 27, 2023