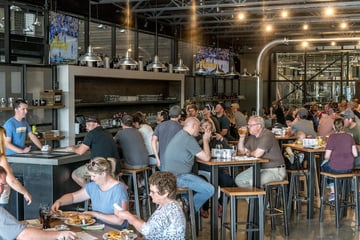 The pandemic may persist in various ways, but restaurant brands are serving up platefuls of positive news that underscore the strength of the industry's resiliency and recovery.
Take the feast of financing that Puttshack, a miniature golf eatertainment concept, has teed up from investment firm BlackRock. Allocated to accelerate the national expansion of the technology-infused six-unit chain, the $150 million in capital
1
is a clear sign of growing investor confidence in the long-term prospects for the resurgence of in-store traffic.
Founded by the creators of high-tech golf-and-food entertainment emporium Topgolf, Puttshack takes the miniature golf experience to another level with Trackball technology that automates scoring through Bluetooth and GPS. The robust round of funding for the upscale upstart may seem par for the course, considering Topgolf sales have been so strong that parent company and famed golf equipment brand Callaway has rechristened itself Topgolf Callaway Brands Corp.
"People are ready to be outside their house and are ready to be with friends," said Puttshack CFO Logan Powell.1 "There's a lot of demand for our business. Coming out of COVID, we've had some good success."1
Hungry for More: Sales Results Leave a Good Taste in Operators' Mouths
In another sign of the industry's resurgence (and the power of a well-timed marketing campaign), quick-service sandwich shop chain Subway sank its teeth into sales numbers so meaty, the brand reported record-breaking increases.2 The chain's Subway Series marketing blitz—a tour de force of sports superstars promoting Subway's most ambitious menu overhaul in its history—resulted in 8.4% increase in same-store sales year-over-year for the third quarter and edged toward an 11% increase in September.2
"The results from the Subway Series launch and the positive reaction from guests and franchisees demonstrates that our transformation strategy is working," Subway North America President Trevor Haynes explained.2 "As we continue to evolve from a default choice to a destination for our guests, our priority remains working alongside our franchisees to find new and exciting opportunities to elevate the guest experience and drive profitability and traffic."2
What's more, despite a still uncertain economy with supply chain and labor issues, Domino's Pizza delivered a nice slice of same-store sales with a 2% increase in Q3 compared with a 2.9% drop in Q2. Staff improvements and a 20% discount on digital orders have helped propel the business forward, and carryout is up by nearly 31% versus 2019.3
"Our team members and franchisees around the world continued to show the agility and perseverance required to operate in a volatile macro-economic environment," CEO Russell Weiner said.3 "As we begin the fourth quarter, I believe Domino's is poised to emerge from these volatile times stronger than ever."3
From inventive pizza concepts to savory sandwiches and everything in between, the acclaimed chefs at Mondelēz Foodservice combine culinary innovation with beloved brand ingredients to help optimize menus across foodservice segments. Get a taste of what they offer in our Culinary Center, and if you're hungry for more and want to learn about custom menu solutions for your operation, contact us below.
1 Maze, Jonathan, "Puttshack Gets $150 Million from Blackrock to Put Its Minigolf Concept Everywhere," Restaurant Business, October 6, 2022
2 Petre, Holly, "Subway sees record-breaking financial success with Subway series campaign," Nation's Restaurant News, October 12, 2022
3 Kelso, Alicia, "Domino's same-store sales turn positive with staffing improvements in Q3," Nation's Restaurant News, October 13, 2022