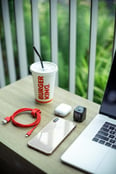 "Simpler is better" seems to be the mantra of foodservice these days. The pandemic has not only put prevention center of plate, but also it has created a hunger for optimal convenience as consumers seek safe and simple options to address their foodservice needs.
Operators are busy balancing menus and margins to meet consumer demand for this fusion of safety and simplicity. To avoid eating losses and manage costs more efficiently, "focus is shifting from true culinary experimentation to efficiency and margin improvement," according to the market research firm Technomic.1 The need to maximize cost-efficiencies has eclipsed menu diversification and underscored technology as a source of smart margin management and higher sales.
As life gets more complex, the consumer appetite for simplicity grows, and operators seek out streamlined menus and operations, Technomic reports.2 "Consumers are looking to simplify their lives, and restaurant operators are following suit. A 'less is more' strategy will have a bigger role in our industry, including for both menu and in operational practices."2
Big Brands Turn the Tables with Technology
For countless consumers, Google is their go-to—a readily available grab bag of goods and services from which they can meet their needs with a few taps or clicks. In 2019, Google introduced an Order Delivery button and voice-based ordering through Google Assistant, and the tech giant reports that in early 2020, consumers conducted more than 5 billion searches for restaurants every month.3
No wonder, then, that Burger King has launched its first integration with Google to enable guests to find the burger chain's nearest location. Available at more than 5,000 Burger Kings across the U.S., the Google integration makes it easy for users to pinpoint the one closest to them through Google Search, Google Maps or the Google Pay app.3 As a special incentive, guests can earn a 20% cashback reward when they use the app to make their next Burger King purchase of $10 or more.3
Cost reductions from the shift to takeout and a streamlined menu have mitigated drop-offs in sales for Darden Restaurants, which owns Olive Garden and LongHorn Steakhouse.4 "As we brought our menus down, we learned a lot about guest behavior and what our guests want to buy without a nudge from us," CEO Gene Lee said in Darden's latest earnings call.4 "... We believe that the business model from a cost side is much stronger than it was pre-pandemic."4
For Olive Garden, the lower cost structure model seems likely to lead the fast-casual Italian chain to expand into smaller markets, where new locations could still enjoy robust returns on investment despite lower sales.4
In Q2 2020, more than 55% of off-premises sales for Olive Garden and LongHorn Steakhouse were digital orders made and paid online, according to Lee.5 Twenty percent of Olive Garden's total sales for the quarter were digital.5
In addition, the rollout of Curbside I'm Here, which enables guests to click on a link in a text message to notify a restaurant that they've arrived for pickup, has increased operational efficiency and customer satisfaction. "As a result, our operators are spending less time on the phone and more time focused on ensuring orders are accurate and on time, which is leading to improved guest satisfaction scores," Lee continued.5
Mondelēz International Foodservice can help you reevaluate and economize your menu for optimal margins while maintaining the highest standards of culinary quality and creativity. How are you managing margins and modifying your menu to meet the challenges of today's environment? Sound off below and feel free to inquire about menu solutions our expert chefs can devise to help your operation thrive.
1 State of the Industry Fall 2020 (Technomic), p. 54
2 Technomic, p. 56
3 Jennings, Lisa, "Need a Burger King Whopper? Soon you'll be able to Google, order and pay," Nation's Restaurant News, Dec. 18, 2020
4 Romeo, Peter, "How Technology and Taylor Swift Are Keeping Olive Garden Relevant," Restaurant Business, Dec. 18, 2020
5 Darden Restaurants Inc (DRI) Q2 2021 Earnings Call, Dec. 18, 2020