"As the largest and most diverse consumer demographic, millennials are global snacking adventurers in search of bold flavors."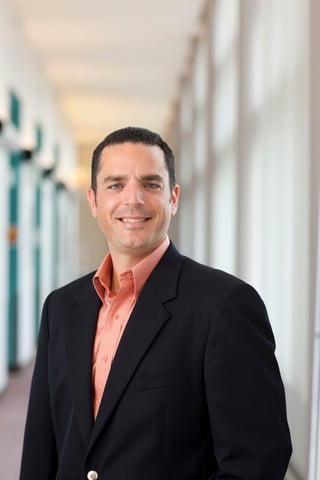 With nearly 20 years at Mondelēz International, Joe started his career as a sales rep in South Florida. His journey over the years has taken him from Florida to Alabama to Michigan and now Pennsylvania. For the last 12 years, he has been working in National Accounts where he's been the director for the past three years. Joe is a foodservice industry veteran. He possesses deep experience in building sales volume in key markets and among various consumer cohorts.
LCS: Tell us a little bit about your background and your role at Mondelēz International.
JC: I've been with Mondelēz International for almost two decades now. All of my years here have been in foodservice. My journey has been filled with taking on varied assignments in four different states, ranging in job scope from entry-level sales to director-level responsibilities encompassing national accounts.
LCS: In your experience, what flavors or flavor combinations are hitting the mark with millennials?
JC: If there's one thing for sure about millennials, it's that they love to explore flavors from around the world in the food and beverages they consume. An example of this would be milkshake flavors. Gone are the days of just chocolate, vanilla and strawberry. We are now seeing emerging shake flavors like cinnamon, black currant and chocolate hazelnut. OREO shakes are offered at national chains, and OREO has blazed a trail as a leading brand item for both ice cream and baked goods.
LCS: Why do you think millennials are so into bold flavor profiles, as compared to other generations?
JC: I believe credit can certainly be given to food-focused networks and now many other TV shows that showcase food from around the world. Not to mention that millennials love to travel and explore on their own. Their parents may have also taken them on vacations where they experienced different kinds of foods. In addition to this, the food choices within our industry have also increased and made it much easier to go beyond the traditional burger, fries and colas. And of course the rise of the internet and social media has given them unprecedented access to culinary inspirations from all over the globe.
LCS: When you look at world cuisine, what would you say are the "hot spots" where popular and trending flavors are coming from?
JC: Asian-inspired snacks and desserts are popular. Asia has become quite the source for foodservice trends. South Korea, for example, led the way with customizable frozen yogurt, which didn't come to the U.S. until years later. In terms of ingredients, sesame is a standout, as are toppings like sweet red bean, mangos or sweet slow-cooked peanuts. Latin America, with its emphasis on hot and spicy, is influencing flavor profiles as we see heat become increasingly popular. Sriracha is an example of Asian heat that's become widely used. All these trends are outgrowths of the sheer diversity of millennials and their openness to multicultural culinary influences.
LCS: How do you think millennials are different from other generations when it comes to snacking?
JC: Millennials want it all: they crave new, exciting flavor combos, mash-ups and hybrids, but they're also very into nutrition. Wholesome, traceable ingredients, low fat content, low sodium, no additives—these are the kind of things they look for. They also gravitate to trusted brands with sustainable business practices. They want snacks that taste good, are good for you, and good for the planet.
LCS: Can you talk a little about how Mondelēz International is meeting millennial demand for bold flavor experiences?
JC: Our new product launch of Véa snacks underscores our commitment to lead the way when it comes to exciting flavor experiences that also align with millennial expectations of wholesomeness. Véa varieties are available in many forms, including crunch bars, world crisps and seed crackers, and come in a wide range of global recipe-inspired flavors. No artificial colors or flavors. And they're Non-GMO Project Verified.
LCS: What makes Mondelēz International so relevant to the millennial market?
JC: Aside from our iconic national brands, which millennials grew up with and have always loved, we align with the millennial values of socially responsible and environmentally sustainable business practices. We believe that the health of individuals, communities and the planet are inextricably linked. That's why we created our Call for Well-Being-- our call to action for our employees, suppliers and community partners to work together to create positive impact on our world. We're focused on four pillars—sustainability, well-being snacks, community and safety—where as a company we can make a positive impact.
LCS: What's your advice for foodservice operators looking to appeal to millennial snacking preferences?
Be sure to offer product assortments that appeal to their sense of adventure and wanderlust. Remember that millennials want brands and ingredients they can trust, but they also want to explore new horizons of flavor. And they tend to snack more than other generations, so be prepared to give them plenty of options and keep your offerings varied and interesting.
For further insights into the millennial appetite for global cuisine, read "Foodies for Thought: The Impact of Millennial Foodie Culture."
Do you agree with Joe's perspective on the bold choices millennials make when it comes to snacking? What do you think will be the next great wave of globally inspired flavor trends?