Posted in Millennials on November 21, 2016
"Salty sells" is a fact foodservice operators have savored all along. But now consumers want to have their salt and eat it too–and that can be a challenge, given the rise of the better-for-you snacking trend that demands a balance between nutritious and delicious. A salty-tasting profile that also offers nutritional value seems like a recipe for a higher check average, and manufacturers have been busy combining the two to help drive sales–an important factor for continued growth, according to the Packaged Facts report Salty Snacks in the U.S., 4th Edition.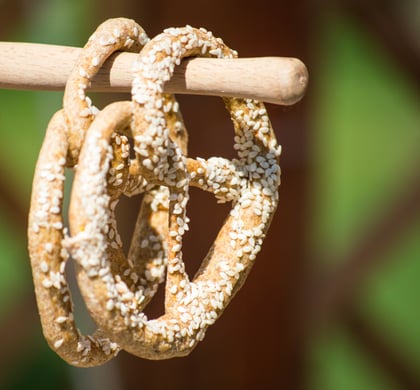 Despite competition from an ever-expanding smorgasbord of snackified food items like yogurt, cheese and meats, salty staples like potato chips and tortilla chips remain popular, as underscored by their presence in three-quarters of homes.1 As Packaged Facts Research Director David Sprinkle notes, the healthy-but-tasty foodservice trend coupled with the rising demand for grab-and-go convenience presents opportunities to grow salty snack sales through 2020.1
A Pinch of Salt, a Boost to Business
The stakes are high for foodservice operators, given the fact that salty snack sales hit $22 billion in 2015.1 Potato chips bit off the biggest chunk of sales, taking in $7.5 billion for the year, followed by tortilla and tostada chips at $5.2 billion.1 While Packaged Facts expects moderate growth, Mintel is more optimistic. In part because Americans are snacking more often, Mintel has projected that after having grown 15% from 2009 to 2014, sales of salty snacks will continue their upward arc by an additional 21% by 2019.2 Their research also shows that the emphasis on better-for-you may be taken with a grain of salt, citing taste and indulgence as the main purchase drivers. 2
"As consumers continue to snack more frequently on salty snacks and other options," explains Mintel's Associate Director of Foodservice Research Amanda Topper, "manufacturers will be tasked with meeting their varying need states. While some consumers look for BFY snacks, the top reasons for buying salty snacks are as a treat or to satisfy a yearning, indicating there is room in the market for both healthy and indulgent salty snacks."2
Seasoning the Salty Snack Attack
So how are food manufacturers and foodservice operators developing new products and driving menu innovation to satisfy the consumer's appetite for salty snacks? A popular approach is to broaden flavor profiles to integrate tastes from diverse regions of the world into traditional favorites like potato chips or pretzels. But classic pairings of sweet and salty still have popular appeal and tap into nostalgic snack cravings amid the new flavors flooding the market. What's more, new technologies can make everything old new again as they change the way snacks are cooked, shaped and packaged, often with an emphasis on social responsibility and environmental sustainability that appeal to the millennial market.
In the Mood for Savory Sales
According to "How America's Eating Habits Are Changing," a report from the Private Label Manufacturers Association, salty snacks top the list for millennials when it comes to favorite snacks. Fifty-eight percent of millennials surveyed prefer snacking on salty staples like chips, popcorn, pretzels, crackers and nuts; 42% favor sweet snacks like cookies, candy and donuts. And with more than 60% claiming that they snack throughout the day, often as a quick convenience, it's easy to see why tapping into their preferences is worth its salt.
While salty snacks may not always top nutritionists' list of healthy snacks or conform to clean label foodservice trends, they tend to score points as a feel-good treat. A major food manufacturer's poll of 3,000 U.S. consumers revealed that seven out of 10 convenience store shoppers choose salty snacks as mood-boosting comfort food.3
Salty Snacks a Cash Cow for C-Stores
The just-add-salt recipe for robust sales has worked well at c-stores, which sold $4.8 billion worth of salty snacks in the 52-week period ending Jan. 24, 2016. 3 Bolstered by demand for grab-and-go snack options, the c-store channel saw salty snack sales soar. According to Susan Viamari, vice president of thought leadership for IRI, "C-store salty snack growth outpaced industry average by a wide margin—6.1% in dollar growth versus 3.7% growth in all other multi-outlet locations."3 Cheese and pretzels took top honors for sales growth in the c-channel during the same time period.3
How are you balancing the better-for-you millennial snack trend with the popularity of salty favorites? Are traditional salty snacks selling better for you than healthier options? Share a few savory tidbits below.
1 PR Newswire, Packaged Facts: Healthy Trends, Convenience Sustaining $22 Billion U.S. Salty Snacks Market, Feb. 29, 2016,
http://www.prnewswire.com/news-releases/packaged-facts-healthy-trends-convenience-sustaining-22-billion-us-salty-snacks-market-300227237.html
2 Mintel, Salty Snacks–US–January 2015,
http://store.mintel.com/salty-snacks-us-january-2015
3 Convenience Store Decisions, Flavors, Textures and Cheese Lead Snack Trends in 2016, March 10, 2016,
http://www.cstoredecisions.com/2016/03/10/flavors-textures-cheese-lead-snack-trends-in-2016/