Posted in Takeout on March 23, 2021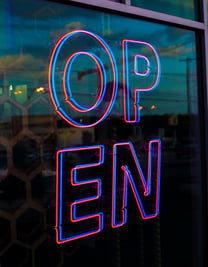 If there can be a bright side to the pandemic, it's the resolve and resiliency of the restaurant industry during an astonishingly challenging time. Amid the massive fallout, operators continue to turn the tables and take sales from fizzle to sizzle.
Innovations once driven by desperation are now reliable long-term revenue engines. Consumer behavior shifted from dining in to digital ordering and off-premises channels, turning services that were once exceptions into expectations.
Takeout, for example, has taken hold as a reliable pattern of behavior after consumers ordered $769 billion worth of food last year—63% of which was eaten at home, as reported by the payment publication PYMNTS and restaurant tech provider Paytronix.1
Survey data from the mobile app geolocation technology company Bluedot has determined that takeout has transitioned from trend to fixed behavior that will continue post-pandemic. "It's a new era of customer habits," Bluedot reported, noting that 1 in 3 consumers surveyed plans to make their pandemic dining behavior permanent.1
Texas Roadhouse Rustles Up To-Go Revenue
The first seven weeks of 2021 for the fast-casual chain Texas Roadhouse offered a strong sign that the to-go phenomenon is here to stay. Even with its 165 restaurants open at 75% to 100% capacity, off-premises dining accounted for about 20% of the chain's sales.2 New to-go windows for takeout orders and an upgrade to the brand's smartphone app, which saw a spike in downloads in January, helped spur off-premises sales.2
Fifty-five percent of the chain's to-go sales were made through the app or online ordering.2 "We're starting to see the guests get more and more comfortable using those apps, and that really gives us a great way to communicate with them that maybe you don't have if they're calling into the restaurants," Chief Financial Officer Tonya Robinson said on Texas Roadhouse's Q4 2020 earnings call.2
Best-Ever Sales Spring Up at Jack in the Box
Jack in the Box is another fast casual chain riding a wave of sales, thanks to the momentum off-premises options gained when dine-in services were limited or prohibited. In fact, the quarter ending Jan. 17, 2021, proved to be its best yet, as same-store sales rose 12.5%.3

Like many other chains, Jack in the Box saw a jump in sales when consumers received an infusion of stimulus cash in January.3 Jack in the Box's record-breaking quarter was the result of higher check averages, more frequent ordering from core customers, and the popularity of value bundles and add-ons.3 Improved chicken strips and the launch of the Chicken Cluck Sandwich also were factors.3
"What we're seeing is this increase, or more frequency, from these core menu items and core heavy users, so that's obviously encouraging," said CEO Darin Harris.3 The sales surge has raised high expectations for future growth. "The profitability of our existing stores for the fiscal 2020 year increased 20% over 2019," said Harris.3 "And as we're growing sales and improving margins, that always gets a franchise system excited about growth."3
Want to manage margins more effectively with a menu mix that can help maximize sales on-premises and off? Mondelēz International Foodservice offers an innovative combination of brand trust and culinary excellence to help restaurants and other foodservice operations thrive now and post-pandemic. Contact us below to learn about menu solutions for your operation.
1 Guszkowski, Joe, "Takeout ruled in 2020, and it's likely to continue," Restaurant Business, Feb. 18, 2021
2 Ruggless, Ron, "Texas roadhouse sees pandemic strengthening to-go sales," Nation's Restaurant News, Feb. 19, 2021
3 Maze, Jonathan, "Jack in the Box just had its best quarter in 27 years," Restaurant Business, Feb. 19, 2021