Posted in Snacking on November 1, 2022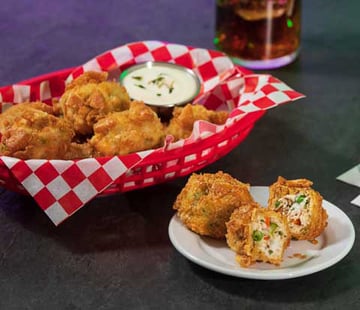 Small bites have become a very big deal—and the consumer appetite for them appears insatiable.
Sixty-four percent of consumers surveyed opt for many small meals throughout the day instead of a few large ones—a 5% increase from 2019, according to a global report on snacking from Mondelēz International.
1
What's more, snacking has surged to such an extent that consumers are convinced the market will grow to keep pace with demand. Eighty-four percent believe that the next 3 years will see an expanded and more diversified range of snack options.
1
In evolving to assume an expanded role in the lives of consumers, their eating patterns, and their food and beverage purchasing decisions, snacking shifts the focus of menu innovation to small plates and shareable varieties available across dayparts. "Strong majorities say their definition of what a snack is has evolved over the last 3 years to include more or different types of foods, occasions for eating or other elements (79%)," according to the report.1
The shift from large meals to small bites leaves a lot of money on the table for restaurants as they scramble to accommodate consumers' appetite for snackable and shareable items. Consumers are hungry for snack options that serve a nutritional purpose once reserved for meals. Seventy-eight percent snack regularly for nourishment—an 8% rise from 2020.1
Great Expectations: Menus Adapt to Meet Snacking Demand
In January, the plant-forward chain Frutta Bowls added Cran-Cacao Protein Bites to the menu. Made with blueberry granola, almond butter, vanilla whey protein, cacao and dried cranberries, the balled-up bites exemplify the rise of quick, better-for-you options on menus today.
But while demand for functional snacks is on the rise, consumers surveyed overwhelmingly agree in balancing between nutrition and indulgence. Eight in 10 believe that some snacks should be for enjoyment independent of nutritional value, and 88% believe that a little indulgence is a permissible part of a balanced diet.1
Given the market's hunger for snack options that feature flavor profiles focused on gratification, the addition of Totchos at quick-service chain Sonic Drive-In makes perfect sense. The potato tots are a savory mix of cheese sauce, bacon, diced onions and hot sauce. Broccoli cheddar tots are also fueling sales, while fried cookie dough bites satisfy customers' hankering for a sweet treat.
Casual-dining chain Firebirds Wood Fired Grill has expanded its Firebar menu from six items to 10 to accommodate demand for small bites throughout the day. Discounted during Happy Hour, the menu is available all day for "clockless" dining, as Steve Sturm, the chain's senior vice president and executive chef, calls it.2 The new items include meatballs made from rib-eye steak trimmings and served with wood-fired focaccia in a creamy tomato sauce. According to Strum, foot traffic is increasingly trickling in during the late afternoon hours, with younger customers gathering in groups for a shareable dining experience.2
The importance of presentation and the influence of social media are also key factors to consider when adapting menus to include more small bite options. Fifty-five percent of consumers surveyed were inspired by social media to try a new snack in the past year, and 82% of Gen X survey participants (62% overall) enjoy food content on social media.1
Eye-catching, buzz-building bites that offer a feast for the eyes as well as tantalize taste buds are a must. As Michael DeGano, vice president of operations for Sage Restaurant Concepts, said: "I think a lot of it is the way it's presented."2
Looking for small bite inspiration to help your menu meet the demands of a changing market? Visit the Mondelēz Foodservice Culinary Center, where our celebrated chefs use our beloved brand-name ingredients to create inventive concepts that today's snack-happy customers are sure to enjoy, like our Chicken Pot Pie Bites Made with RITZ Crushed Crackers. For custom menu solutions tailored to your operation's needs, reach out below.
1 Mondelēz International, The Harris Poll and Next Atlas, The Third Annual State of Snacking 2021 Global Consumer Trends Study
2 Thorn, Brett, "Restaurants adapt to a grazing nation," Nation's Restaurant News, September 30, 2022