Posted in Takeout on May 4, 2021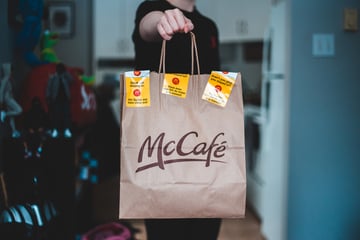 There's no getting around it: Despite driving sales progressively higher through off-premises channels, the restaurant industry had to eat some heavy losses in 2020. Even big chains took a big hit. According to the market research firm Technomic, the $304 billion generated by the 500 largest chains last year marks a $27 billion drop from 2019.1
But it turns out that bigger has proved to be better during the pandemic. The lion's share of sales last year went to the 50 largest chains, which had the advantage of having already incorporated robust drive-thru, delivery and digital capabilities.1
In general, major chain restaurants significantly outperformed independent operations—and were more likely to post sales increases and suffer fewer closures. Technomic ranked chains based on systemwide sales (company-run and franchise-owned), and success split along the haves and have-nots of off-premises. According to Kevin Schimpf, Technomic's senior research manager, "As many small chains and independent restaurants struggled to simply stay in business over the last year, market share for the industry's largest chains expanded significantly."1
The importance of takeout was a major takeaway from the lessons learned during the pandemic. The takeout-only drive-in burger chain Sonic, for example, saw its sales soar 21% to $5.7 billion—the largest jump among Technomic's Top 500 and second only to chicken wing specialty chain Wingstop, which posted 31% growth.1 And takeout—in particular curbside pickup—has taken hold for the long haul. As Mondelēz International Foodservice's 2021 Foodservice Trends: A Look at the Road Ahead
reports, not only did 40% of surveyed takeout customers choose curbside pickup, but two-thirds of them say they will continue using it as restrictions are removed.2
Wendy's, meanwhile, became the segment's second-largest chain, surpassing Burger King on the strength of a 4.8% increase to $10.2 billion in system sales.1 McDonald's remained top bun, however, with $40 billion in system sales—13% of the entire sales generated by the Top 500 chains.1
Second Helping: Chains Strengthen Link Between Innovation and Sales
So what's next for these juggernauts? In addition to refining and expanding their off-premises models, expect chains to step up menu innovation, including a sharper focus on portability and travel-friendly food options. Having proved successful for top 10 chains such as Chipotle, Starbucks and McDonald's,3 "secret menus" featuring unadvertised culinary concepts for customers in the know are poised to become increasingly popular as a way to generate excitement and enable operators to get creative with inventory that might otherwise go to waste.
What's more, plant-based protein alternatives are sure to sprout up in greater abundance, including in the chicken chain segment where sales have soared to new heights. Chicken chains experienced dramatic sales growth last year, with Popeyes (20%), Chick-fil-A (13%) and KFC (4.3%) proving to be birds of a feather in terms of their market popularity and performance.1

KFC's foray into plant-based chicken showed promise in key cities last summer, and now the startup Project Pollo is taking over vacated quick service restaurant sites to roll out its breaded, plant-based chicken concept in Texas.4 Expect more such innovation in the months to come.
Looking for smart menu solutions to help boost sales at your operations? Put the culinary ingenuity and popular brand ingredients of Mondelēz International Foodservice to work for you. Contact us now or leave us a quick message below, and we'll be sure to follow up with ways we can help feed your bottom line.
1 Maze, Jonathan, "Technomic Top 500: The Biggest Chains Stood Out in a Tough 2020," Restaurant Business, April 2, 2021
2 2021 Foodservice Trends: A Look at the Road Ahead (Mondelēz International Foodservice, December 2020), p. 1
3 2021 Foodservice Trends: A Look at the Road Ahead, p. 3
4. Hamstra, Mark, "Project Pollo rolls out plant-based chicken concept in former fast-food chain locations," Nation's Restaurant News, April 2, 2021