Posted in Snacking on September 26, 2023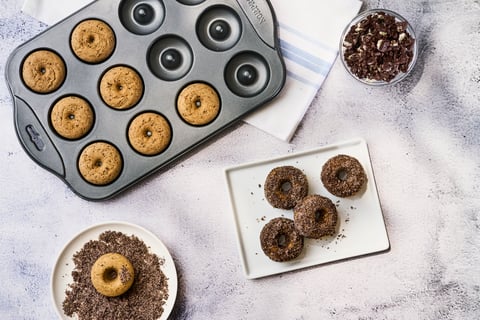 Creative pastry chefs take the sweet treats to new levels with inclusions and toppings.
Donuts are rolling in innovative new directions, and consumers can't get enough of them.
Restaurant operators and pastry chefs have increasingly experimented with donuts in new ways, from incorporating them in sweet-and-savory applications such as burgers or bacon-topped treats, to building colorful works of art piled high with added candies, cookie pieces, and other toppings.
Industry statistics for donut shops have shown a growth of 1.2% per year on average between 2017 and 2022, according to research firm IBISWorld, which reported that the U.S. market was up 0.6% in 2022, totaling about $7.3 billion.

In fact, donut market research has shown that the fastest-growing restaurant chain in the U.S. in 2022, according to research firm Datassential, was a donut concept called Mochinut, a Los Angeles-based chain that specializes in a unique, rice flour donut that checks all the on-trend boxes. First of all, it's a globally inspired concept, with influences from Hawaii, Japan, and Korea. In addition, it provides a small treat for one person, or can be easily shared via its break-apart design, and this trending donut option is perfect for sharing on social media.
"Younger consumers in particular are also flocking to new concepts like Mochinut to experiment with more global flavors," Datassential says.

Flavors include many Asian favorites, such as Ube, Yuzu, Black Sesame, Matcha, and Taro, along with other popular varieties, including Churro, Red Velvet, and Chocolate.

Here's one way to introduce your customers to fun flavors that feature mochi dough: Matcha Mochi Donuts made with SOUR PATCH KIDS® Bitz.
Chef cites international influence
Unlike many of these other dessert ideas for restaurants, however, pies lend themselves especially well to seasonality.
The global influence on donut creation is also a growing donut industry statistic that is on display at Sublime Doughnuts in Atlanta. Founder and creative director Kamal Grant, a former Mondelēz Foodservice Brand Ambassador, says his travels in the U.S. Navy, where he served as a baker, exposed him to international culinary treats and exotic flavor and texture combinations. Singapore's ice cream sandwiches made with multi-colored bread and sweet red bean soup, Australia's malt chocolate beverages, and Dubai's shawarma and rosewater forever changed Grant's approach to baking, he says on his company's website.

"While traveling around the world in the Navy, I learned that pastries weren't just about baking; they also represented culinary art," says Grant.

His specialty donuts are known not only for their high quality, but also for their unusual toppings and inclusions. Among his creations was a Filled Donut made with Chunky CHIPS AHOY!® Cookie Pieces, filled with Buttercream also made with Chunky CHIPS AHOY! Cookie Pieces.

"To make it even more sweet, we filled it with Chunky CHIPS AHOY! Cookie Pieces and added more cookies on top," Grant said in a Twitter (now X) post at the time.
That wasn't the only CHIPS AHOY! Cookie-inspired donut Grant created. He also crafted a Caramel White Chocolate Gelato Doughnut Sandwich made with Chunky CHIPS AHOY! Cookie Pieces. The doughnut is layered with sweet, crunchy, and chocolate flavors, Grant says.

"Chunky CHIPS AHOY! Cookie Pieces really inspired me," says Grant in Volume 3 of the Mondelēz Foodservice Culinary Inspiration Guide. "By adding the caramel and brown sugar to the gelato and buttercream, it gave off that kind of browned butter chocolate chip cookie taste. It sold really well. Everyone loves CHIPS AHOY!"

He has also featured OREO® Cookie Pieces in his doughnut creations. He says there is always room for nostalgia, especially in donuts.

"I still like using the nostalgic brands and flavors from my childhood that I still enjoy today," says Grant. "I try to put my own spin on them."

Krispy Kreme's cookie blast
Earlier this year Krispy Kreme debuted its own OREO and CHIPS AHOY! creations as a limited time offer. They included the OREO and CHIPS AHOY! Cookie Blast Doughnut, which was filled with two CHIPS AHOY! cookies and OREO cookies & KREME™ filling, then dipped in cookie dough icing and a blend of OREO and CHIPS AHOY! cookie pieces. It was then decorated with an OREO Cookies and Kreme™ dollop and one mini OREO cookie and one mini CHIPS AHOY! cookie.

"Imagine your favorite doughnut with two CHIPS AHOY! cookies inside it," says Dave Skena, global chief brand officer for Krispy Kreme, in an announcement at the time of the launch. "We made that a reality."

Voodoo Doughnut is another chain famous for its innovative, trending donuts and its Instagram-ready creations. At the Universal CityWalk Orlando location, for example, customers can order the Grape Ape, a raised yeast doughnut with vanilla frosting, grape dust, and lavender sprinkles, and the Chuckles, a raised yeast doughnut with chocolate frosting dipped in mocha powder and topped with peanuts, caramel, and chocolate drizzle.

Voodoo Doughnut also has multiple donuts that feature OREO Cookies: one called "Dirt," a raised yeast doughnut with vanilla frosting and OREO Cookies; and another named "ODB," which features chocolate frosting, peanut butter and OREO Cookies.
Here are some more trending donut recipe ideas:
The possibilities for innovation are endless when it comes to taking the humble donut and dressing it up as a fun snack or high-impact dessert. For more ideas, donut industry statistics, and inspiration to drive excitement and profitable sales with donuts, visit our infographic.