Posted in Millennials on June 12, 2018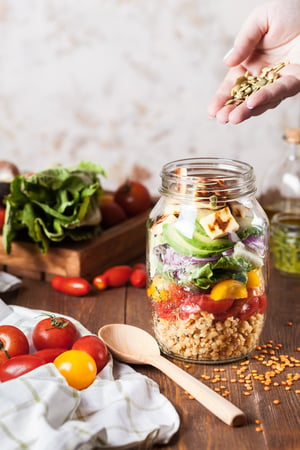 Rooted in the better-for-you foodservice trend, consumer appetite for plant-based products is continuing its growth spurt. Given the prevalence of a more mindful approach to food consumption, especially among wellness-oriented millennials, plants seem to have found ample fertile ground for market growth.
With 76% of U.S. adults surveyed in agreement that plant-based foods are healthy, many consumers find them an important asset that helps them maintain or improve their well-being, according to the market intelligence firm Mintel.1 Consumers surveyed find plant-based protein an advantage that helps them achieve wellness goals like weight management (31%).1
But while 46% of Americans surveyed consider plant-based proteins better for you than animal-based options, 52% cite taste is the top reason for eating them.1 Sixty-five percent say taste is also the deciding factor when choosing plant-based foods in the grocery aisle, followed wellness-oriented attributes.1
"Despite the fact that health attributes, particularly free-from, factor strongly in consumer decisions when purchasing plant-based proteins, at the end of the day, taste is the driving force behind purchase and eating decisions," said Billy Roberts, Senior Food and Drink Analyst at Mintel. 1 Roberts believes "growing consumer interest in better-for-you lifestyles will continue to drive interest in the category."1
Taste of Success: Plant-Based Flavors Grow On Consumers, But Trust is a Must
While many Americans aged 18-34 agree that plant-based foods may be expensive, they are more likely to consider trusted brands worth the price.1 Forty-seven percent of millennials surveyed agree that brand name is an important consideration when deciding which plant-based foods to purchase.1
At a time when the popularity of plant-based foods is budding, it stands to reason that vegetable flavor profiles should break ground with consumers hungry for snacks that are both tasty and wholesome. As Roberts points out, "Americans are more and more avoiding food products with artificial ingredients and GMOs, and vegetarian, vegan and free-from foods have grown to be regarded as healthier options."1
The rise of plant-based foods was one of Mintel's top global trends to watch in 2017, and it seems to have met expectations.2 Eleven percent of the global food and drink products launched between September 2016-August 2017 carried vegetarian claims--a nearly 4% increase from September 2006-August 2007.2 In the same time frames, vegan claims have sprouted up from under half a percent of global food and drink launches to nearly 5%.2 And compared to 2016, 39% of Indonesian and 34% of Thai consumers surveyed are opting for non-animal sources of protein like plants or grain.2
Sowing the Seeds of Menu Innovation
Now Baum+Whiteman have identified "Plant-Based Foods Go Mainstream" as their number one trend of the year for 2018.3 While the trend's growth has been comparatively slow in the restaurant industry, the international food and restaurant consultants predict that restaurant operations will turn over a new leaf and get in sync with the "rapid consumer shift to 'plant-based' foods" that grocery store shelves reflect.3
Among the interesting stats Baum+Whiteman cites are a 52% increase in vegetable intake by consumers under age 40 (in contrast to those above 60 whose vegetable consumption has dropped 30%), and a 90% increase in vegan searches on Google last year.3 These two stats seem to feed off each other, given the link between younger consumers and Google, which flourished along with their rise as the first generation weaned on digital technology.
Baum+Whiteman reports that Google's own noncommercial foodservice operation, along with Panera Bread, Hilton Hotels, Stanford University and Sodexo, is developing "plant-forward" items for its menus in a calculated shift away from meat-driven dining.3
Find out how our trusted brands can help grow sales of plant-based snacks at your foodservice operation and enhance your menu with a variety of vegetable flavor profiles. Reach out below.
1 Mintel, Taste Is The Top Reason Us Consumers Eat Plant-Based Proteins, Feb. 15, 2018
2 Zegler, Jennifer, "2017 Global Food and Drink Trends: How Did We Do? (1/2)," Mintel Blog, Oct. 5, 2017
3 Baum+Whiteman, 11 Hottest Food and Beverage Trends in Restaurant and Hotel Dining for 2018, Hotelier, October 30, 2017