Posted in Trends on June 1, 2021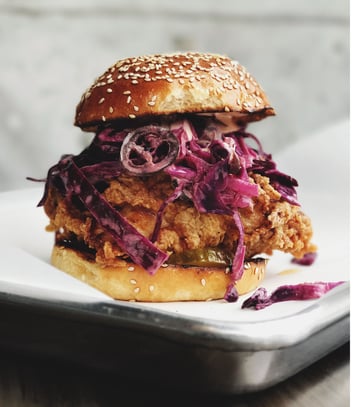 Chicken may have risen to the top of the pecking order in terms of consumer demand, thanks to the so-called "chicken sandwich wars." But as restaurant operators are learning, the realities of demand and supply face a battle of their own. A drop in chicken processing and production due to the pandemic, combined with the growing popularity of chicken sandwiches at major fast food restaurants nationwide, has left operators scrambling to meet demand—and threatens to send sales into a tailspin.
In a recent conference call with investors, Yum! Brands CEO David Gibbs flagged the issue confounding KFC, one of Yum!
'
s largest brands. "Demand for the new sandwich has been so strong that, coupled with general tightening in domestic chicken supply, our main challenge has been keeping up with that demand," he said.
1
Launched in January, KFC's new fried chicken sandwich features an extra-crispy filet, pickles and spicy or regular mayonnaise on a buttered brioche bun. "Our sandwich is performing at more than twice the volumes of our prior U.S. sandwich launches," Gibbs said. "Customers are loving the product and coming back more frequently for it."2 Indeed, the new item helped U.S.-based KFC restaurants enjoy an 11% growth in Q1 sales compared with the same period two years ago.2
On a Wing and a Prayer: More Chicken Chains Struggle with Supply
KFC competitor Wingstop points to supply-chain labor challenges as another factor in the shortage. "Suppliers are struggling, just as many in our industry are, to hire people to process chicken, thus placing unexpected pressure on the amount of birds that can be processed and negatively affecting supply of all parts of the chicken in the U.S., not just wings," according to CEO Charles Morrison.1
Morrison attributes the increase in unemployment benefits from the government stimulus package as a key reason for poultry workers not returning to the labor pool. As a result, he said, "we anticipate that wing prices could remain elevated for the balance of 2021."2
Other chicken chains (Bojangles and Buffalo Wild Wings among them) have seen demand not just diminish but actually deplete their chicken supply. But Tom Super, senior vice president of communications at the National Chicken Council, a nonprofit trade association for the U.S. broiler chicken industry, believes chicken will resume its high-flying ways.
Super expressed confidence that price increases due to limited supply won't affect demand in the long run, given chicken's popularity and market staying power. "As chicken production begins to resume back to a more normal pace of output in the coming months, and there is a better supply/demand ratio, prices should ease," he said.1
According to recent data from The NPD Group, chicken sandwiches have monopolized menu innovation at major restaurant chains since 2019.3 Popeyes triggered the craze with the launch of its fried chicken sandwich in August 2019,4 and soon thereafter, social media became the battleground for chicken sandwich supremacy.5
Data from The NPD Group also shows that 95% of chicken sandwiches were served by quick service restaurants, with 53% of those servings ordered at the drive-thru.6 Interestingly, surveyed consumers expressed little loyalty to any particular chicken sandwich brand.7
Mondelēz International Foodservice offers the culinary expertise and brand ingredients to elevate your menu with distinctive chicken dishes that can set your menu apart. Be sure to explore our selection of innovative chicken concepts in our Culinary Center. For customized signature chicken sandwiches and other dishes or dessert specialties, reach out below.
1 Feuer, Will, "Chicken shortage in US being blamed on pandemic, fried sandwich craze," New York Post, April 30, 2021
2 Wiener-Bronner, Danielle, KFC's biggest challenge: People get can't get enough of its chicken sandwich, CNN Business, April 28, 2021
3 Brook, Anne, Fast Forward to the Future: Chicken Wars Take Flight (The NPD Group, April 2021), p. 2
4 Cobe, Patricia, "A Brief History of the Chicken Sandwich Wars," Restaurant Business, Jan. 7, 2021
5 The NPD Group, p. 3
6 The NPD Group, p. 6
7 The NPD Group, p.