Posted in Restaurant Operations on November 15, 2022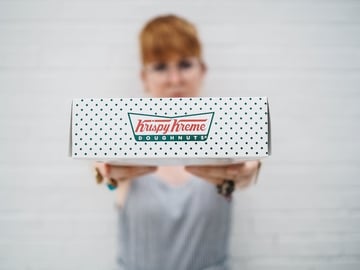 Mashups may be a big culinary trend, but creative co-branded partnerships can be the unlikely corporate pairings that propel sales on an even larger scale.
Take McDonald's test launch of Krispy Kreme donuts at nine of its restaurants in Louisville, Kentucky.1 As of October 26, the burger juggernaut will include three Krispy Kreme varieties to the menu:
Original Glazed, Chocolate Iced with Sprinkles and Raspberry-Filled Doughnut. Delivered fresh daily to the participating locations, the delectable baked treats will be available all day while supplies last, and customers can purchase them in-store or at the drive-thru.
The test is small, but the buzz is big, given the unusual pairing and its ramifications. With the exception of beverages, it's rare for the iconic burger brand to menu other brands' items. But the collab with Krispy Kreme could help its bakery sales rise and boost its strategy to offer more options that pair with McCafe coffee offerings.
"McDonald's is always looking for ways to give our fans more of what they crave, and we often conduct tests to inform future menu decisions," a joint press release from the two brands reads. "This small-scale test will help us understand how offering new bakery items like Krispy Kreme could impact operations in our restaurants."2
In fact, the partnership could hit the sweet spot for both companies. The introduction of Krispy Kreme items to the menu taps into the power of a popular brand in the doughnut market, which is projected to grow by 4% through 2025.2 And with breakfast cracking open a quarter of McDonald's sales in the U.S. and yielding a greater percentage of profits,2 the partnership could help the brand in the scramble for market share in an increasingly competitive daypart.
For Krispy Kreme, direct access to McDonald's coveted customer base feeds into the doughnut brand's strategy of expanding its network of access points, which has helped drive 20% sales-per-hub growth for Q2.2
Compliments of the Co-Branding: Restaurants Share Space, Expand Check Averages

The McDonald's/Krispy Kreme partnership follows on the heels of a broader trend that gained momentum during the height of the pandemic, when major chains, including Denny's and Red Robin, "launched multiple virtual brands with menus that differentiate from each offer with a specific focus." (See our post "Virtual Brands, Real Revenue: Online-Only Restaurant Operations Tap Into Need for Safety.")

While the pandemic may have eased in its severity, the co-branding trend remains strong, especially among multiconcept restaurant holding companies hungry for a higher check average. The idea is that the brand synergy and menu diversity will cast a wider net in a market that craves variety.
Inspired by the success of pairing burgers and wings through its co-branding of Fatburger and Buffalo's Express, Fat Brands recently brought retro burger restaurant Johnny Rockets together with Hurricane Wings at a Holiday Inn location. The company's 225 co-branded restaurants average 20% greater unit volume than traditional single-brand units.3
Focus Brands co-branded its first Auntie Anne's drive-thru pretzel shop with a Jamba juice bar in an example of new shared location formats that capitalize on the growth of the off-premises channel. Varying brand mashups of Auntie Anne's, Jamba and Cinnabon appear nationwide — at college campuses and airports in particular.
How can your operation provide the optimal range of menu items that complement each other to drive a higher check average? The chefs at Mondelēz Foodservice combine culinary innovation with trusted brand ingredients to develop deliciously distinctive concepts across dayparts.
Feel free to graze at our Culinary Center for a feast of wide-ranging recipes, available on the house to feed your imagination anytime. For custom solutions to meet specific menu challenges, share your thoughts below.
1 Maze, Jonathan, "McDonald's Will Test Selling Krispy Kreme Doughnuts," Restaurant Business, October 18, 2022
2 Kelso, Alicia, "Here's why the McDonald's and Krispy Kreme collaboration makes sense," Nation's Restaurant News, October 18, 2022
3 Fantozzi, Joanna, "Multi-concept restaurant operators are all co-branding now–here's why that's smart," Nation's Restaurant News, October 11, 2022