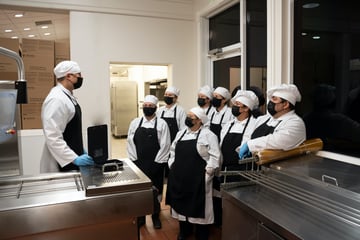 On- and off-premises, foodservice has had so many twists and turns, it's hard to keep track of all the pandemic-propelled trends. But while on-site traffic has made significant inroads thanks to the widespread availability of vaccines and the lifting of restrictions, all roads still lead to safety.
As the COVID-19 crisis lingers and breakthrough cases and variants continue to be concerns, consumers hunger for peace of mind and feed on foodservice brands that emphasize safety. Research data underscores the critical importance of precautions as pandemic-related problems persist.
Trust is a Must: Consumer Confidence Drives Off-Premises Sales
According to the market research firm Technomic, restaurant operators are increasingly confident of business survival. Seventy-four percent of operators surveyed expressed confidence, compared to 19% last November.1
TINDEX, Technomic's index of total foodservice sales across all segments, supports the good feeling operators have about the future. TINDEX data shows that industry sales surged 93% since last April.1
But even as operator confidence grows, building consumer confidence still tops the menu of must-do's for today's operator. Despite the reemergence of onsite dining, safety concerns persist, and the ease and convenience of digital transactions continue to make off-premises a preferred option for many.
Technomic reports that delivery rose 70% in 2020, and while it projected a drop in the growth rate with dine-in reopenings, ordering in is expected to remain the long-term trend as restaurant operations optimize off-premises channels.1
As concerns about the pandemic continue to influence consumer behavior, the need for the trust and safety that off-premises channels and digital transactions offer remains key. Seventy-six of consumers surveyed by restaurant technology company Ordermark/Nextbite said choosing a restaurant they know and trust is a must when ordering food delivery.2
Virtual Brands Show Ghosting Customers Can Be a Good Thing
Given the market's insistent appetite for foodservice that feeds the need for peace of mind, it's no wonder that the reach of ghost kitchens, online-only virtual restaurants and brand offshoots is expanding. Many of Technomic's top 500 chains have been busy building out virtual brand extensions to accommodate high demand for options that balance variety and safety.1 Denny's, Red Robin and others have launched multiple virtual brands with menus that differentiate from each offer with a specific focus.
The virtual restaurant model is evolving, as exemplified by the new hybrid ghost kitchen concept, Swift Eats, which offers multiple virtual brands for takeout and delivery. Located in New York City, Swift Eats features a 900-square-foot storefront where its Swift Salad brand is front and center.4 Customers can walk in and choose a pre-made salad or build their own, or opt for a warm bowl. Back-of-the-house brands include Swift Taco, Swift Burger and Swift Wings.3
Owned by Subway sandwich chain franchisees Jeffrey Kaplow and Brandon Mohammed, the concept is designed to foster consumer trust and confidence with its transparent approach.

As Kaplow explained: "There's no door to the kitchen. You can see people cooking back there, especially when it's busy and we have people cooking in all three stations."
He and Mohammed differentiated their brand by opening a storefront on a busy block where people can walk in and see employees outfitted in gloves, hats and aprons.
"With these other ghost kitchens, you're never going to be able to walk in. You never see how the food is prepared," Kaplow said.4
Optimizing your menu with the right mix to maximize sales on premises and off is no easy task. At Mondelēz International Foodservice, we offer a unique combination of acclaimed culinary expertise and beloved brand ingredients to elevate any menu. To share your thoughts or learn how we can feed your bottom line, simply leave a comment below.


1 Technomic, "State of the Industry," June 2021
2 Canter, Alex, "What consumers really want from food delivery," Nation's Restaurant News, November 19, 2021
3 Stahl, Max, "Subway franchisees launch the new Swift Eats hybrid ghost kitchen in New York City," Restaurant Hospitality, November 24, 2021