Posted in Takeout on December 14, 2021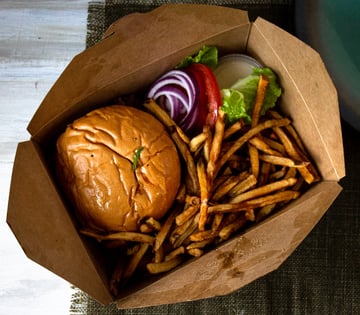 Staffing shortages. Supply chain snafus. COVID-19 concerns. No doubt about it: Foodservice operators still face daunting challenges. But those off-premises channels that the industry developed at a dizzying pace remain reliable revenue engines.
In fact, according to Lisa W. Miller, president of the market insights and strategy firm Lisa W. Miller & Associates LLC, consumers are doing a U-turn back to delivery and takeout as their preferred foodservice options, despite lifted restrictions and the availability of vaccines. As Miller put it: "A lot of consumers are basically just saying, 'I'm going to move it back to take out and just eat at home.'"1
Miller's survey findings show that nationwide 36% of consumers are opting for more takeout, curbside, and delivery rather than dine in at restaurants. Regional differences vary from 27% in the Mountain States to 54% in New England.1
Research data from the analytics firm Black Box Intelligence supports Miller's findings. While same-store sales for October increased 6%, same-store traffic dipped 6.4%.1 "October was the worst month for the industry for traffic growth since the 9.4% reported in March, when vaccines were still early in their rollout and consumers were significantly more cautious," Black Box reported.1
What's more, in a clear sign that apprehensiveness about dining inside is still very much on the table, 51% of surveyed consumers in New England and 42% in the Middle Atlantic States would prefer to dine outside even as the cold weather sets in.1
Virtual Brands Make a Real Difference for Red Robin and FAT Brands
Third-quarter results for casual-dining gourmet burger chain Red Robin reflect the trend of slowing onsite traffic and accelerating off-premises sales. Donatos Pizza, which a growing number of Red Robin locations offer for dine-in, delivery and to-go, was the secret sauce that helped keep off-premises sales strong, though onsite business contracted.2
"Overall, Donatos generated sales of $4.1 million in the quarter, which was aided by an increase in marketing support at certain restaurants," said Red Robin CEO and President Paul J.B. Murphy. "Our restaurants that offered Donatos for the full quarter and did not experience supply chain disruptions experienced comparable restaurant revenue growth of 4.3% compared to 2019."2

Red Robin's three virtual delivery-only brands, Chicken Sammy's, The Wing Dept. and Fresh Set, helped off-premises business deliver a sales mix of 30.8%, double the pre-pandemic level.2 Off-premises revenue totaled $81 million for the third quarter this year, compared with $80.7 million in 2020 and $35 million in 2019.2

Global franchising company FAT Brands Inc., which owns casual-dining chains Fat Burger and Johnny Rockets, has steadily beefed up its roster of virtual brands. "We have three dozen virtual restaurants today," said FAT Brands CEO Andy Wiederhorn.3 "And we're on our way to many more of those … And that enables those operators to make more money. … And it's going out the back door with different packaging and different ingredients. You're using the delivery apps to offer more restaurant menus, basically different brands to your customers in different markets and selling them out of one kitchen."3
At Mondelēz International Foodservice, we combine acclaimed culinary ingenuity with trusted brand ingredients to create travel-friendly appetizers, dishes and desserts that help produce a higher check average. Looking for signature concepts that will set your menu apart? Contact us below to learn how we can help optimize your menu mix for success on- and off-premises.
1 Ruggless, Ron, "Consumers revert to off-premises amid Covid frustrations," Nation's Restaurant News, November 12, 2011
2 Ruggless, Ron, "Red Robin's sales soften in Q3, but off-premises channel remains strong," Nation's Restaurant News, November 11, 2011
3 Fantozzi, Joanna, "Fatburger exhibits pandemic-era leadership as parent continues growth trajectory," Nation's Restaurant News, July 29, 2021