Posted in Trends on February 23, 2021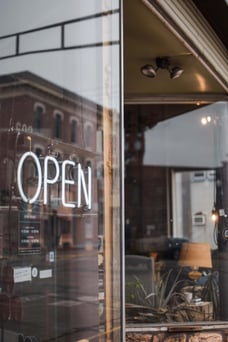 The restaurant business in the age of COVID-19 has become a litany of losses—lost jobs, lost customers, lost sales. But one thing that the industry never lost was hope as the shift to off-premises models, digital integration and a renewed emphasis on margin-friendly menu innovation helped salvage business.
But the fourth quarter of 2020 was a letdown with no sign of a letup as each month saw worse same-store sales than the prior month, according to Black Box Intelligence, a data and insight provider for the hospitality industry.
1
Same-store year-over-year sales growth dropped to -13.3% by December—the worst month for restaurants since July.
1
And at -18.6%, same-store traffic growth for December also posted the worst performance since July.
1
Tightening dine-in restrictions, rising COVID-19 cases and winter weather, which forced outdoor seating to shut down, are likely culprits for the decline.
And yet Black Box Intelligence data for December shows restaurant guest sentiment rose significantly in various categories. Ambience (as reflected by cleanliness and safety) saw the largest improvement in year-over-year guest sentiment. Service and food also experienced year-over-year guest sentiment spikes in December.1 In fact, service net sentiment achieved its third-highest 2020 ranking in December (behind only September and November), and 50% of all mentions and reviews of food were positive.1
"In December, a clear connection emerged between restaurant food and service net sentiment and sales performance," Black Box Intelligence reported.1 And with 80% of all limited-service sales occurring off-premises, travel-friendly quality food is clearly a key attribute that sets the best performers apart.
New Year, New Recipes for Success
As 2021 moves ahead, increasing vaccination rates, easing state restrictions and growing consumer confidence may help restaurant operators see light at the end of the tunnel. And with pent-up consumer demand, improved margins from streamlined menus and off-premises and digital growth, and a once-oversaturated (now much leaner) competitive environment, operators who have weathered the storm could find themselves in a new era of robust profitability.
"For those still in business, I think it's going to be a very favorable demand-supply shift in their favor," says Greg Flynn, founder of the giant restaurant franchise company Flynn Restaurant Group, which owns and operates Applebee's, Arby's and other major brands.2
Sixty-eight percent of consumers surveyed by market research firm Technomic are eager to dine in at restaurants.2 This data point underscores the hunger for on-site foodservice that could make the post-pandemic supply-and-demand shift so favorable for operators.
Technomic projects 20% growth in restaurant sales for 2021, with business getting a boost in the second quarter from warmer weather and more prevalent vaccinations.2 Advances in takeout and technology will continue to generate off-premises sales as on-site traffic returns to a less competitive dine-in environment with fewer locations and options.
As Flynn told Restaurant Business: "Our guests are trained on off-premises. When half our dining rooms were closed, we took off-premises from 12% to 55% of pre-COVID sales. When dining rooms reopened over the summer, you hold on to a lot of that off-premises. If we get back to normal and recover much or most of our dine-in, we'll hold on to so much of that off-premises" business.2
Looking for smart menu solutions to increase sales on- and off-premises, during and after the pandemic? Mondelēz International Foodservice offers a distinctive combination of culinary expertise and trusted brands to help independent restaurants and major chains acquire new customers and boost repeat business. Reach out below, and we'll be glad to follow up with insights and recommendations on how to move forward toward a post-pandemic future of profitability.
1 Black Box Intelligence, "Restaurants succeed in raising guest sentiment in December, despite downturn in sales and traffic," Nation's Restaurant News, Jan. 20, 2021
2 Maze, Jonathan, "Why the Post-Pandemic Era Could Be the 'Roaring '20s' for Restaurants," Restaurant Business, Jan. 21, 2021