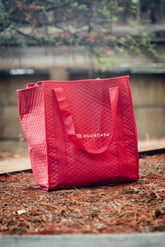 Dining indoors is still taking a backseat to delivery and other off-premises channels, according to the market research firm Technomic.1 While onsite dining restrictions have been easing in most parts of the country and 41% of consumers surveyed had dined on premises (compared with 16% in May), off-premises remains the method of choice for most foodservice customers.1
Digital orders dipped from 20% of restaurant visits in April to 17% in August,1 but off-premises continued to propel sales. Drive-thru pulled ahead of the pack (68%), followed by takeout (63%) and curbside pickup (48%). Third-party and direct delivery trailed behind, both with 45%.1 And while survey data shows a consumer preference for ordering directly from a restaurant,1 share of orders is only slightly greater for in-house delivery. While 43% of consumers surveyed ordered direct, 37% opted for a third-party delivery company, the business news research site The Manifest reports.1
Third-Party Delivery Still First Order of Business for Many Operators
Navigating margins with maximum efficiency has become more important than ever. By delivering directly, restaurants save on third-party fees that eat into profits. But third-party platforms, which have gained momentum during the pandemic, remain pervasive.
Despite bumps in the road, including growing competition from other third-party delivery providers and blowback from restaurants over delivery fees, a report from DoorDash determined that 75% of foodservice operators surveyed relied on its platform to reach new customers and grow revenue.2
Created in partnership with Technomic, the report found that most operators surveyed believe they "may not have survived the current crisis" without DoorDash.2 More than 40% of operators said that the company's relief programs, including cutting delivery fees by 50%, helped them stay in business. And 86% of consumers credited DoorDash with playing an important role in providing access to food during the pandemic.2
With about 73% of restaurants in agreement that third-party delivery is an asset for the industry, it's clear that such platforms have staying power—especially if, as operators believe, they "may be converting delivery customers into more frequent diners."2
As the leading third-party delivery platform, DoorDash represents the resiliency of the third-party channel. "We are honored to be a platform that so many people have turned to, generating billions of dollars in Dasher earnings and new revenue for restaurants during these difficult times," said Tony Xu, co-founder and CEO at DoorDash.2
Taco Bell Spices Up Sales with DoorDash Partnership
Taco Bell, like fellow Yum! Brands chain KFC, has chosen to partner with DoorDash. The Mexican quick-service chain announced it will be available through DoorDash at 75% of its stores (over 5,000 locations) nationwide.3 KFC is available through DoorDash at 3,000 of its locations across the country.3
Taco Bell has been focusing on developing its drive-thru and curbside pickup, and partnering with the third-party delivery provider will expand its off-premises reach. "Growing delivery has always been a priority for the brand, and through this partnership, we're thrilled to give fans exclusive offers that are sure to spice up any celebration," said Nikki Lawson, Taco Bell's chief global brand officer.3
For menu enhancements that help drive traffic both on- and off-premises, Mondelēz International Foodservice offers a wide variety of ideas and inspiration. Browse our Culinary Center and share your challenges below to learn how our brands can help make a difference for your operation's bottom line.
1 Guszkowski, Joe, "4 Trends That Show How Diners Are Ordering Now," Restaurant Business, Oct. 12, 2020
2 Luna, Nancy, "Delivery Wars: New DoorDash study reveals company impact on restaurants," Nation's Restaurant News, Oct. 6, 2020
3 Guszkowski, Joe, "Taco Bell Partners with DoorDash at 5,500 Stores," Restaurant Business News, Oct. 14, 2020