Posted in Technology on November 13, 2018
Nothing feeds the foodservice bottom line like loyal customers. As the National Restaurant Association reported, repeat customers account for as much as 70% of a restaurant's revenue.1 These patrons are also more likely to have a higher check average, given survey data that shows a 60-70% probability of upselling to an existing customer, compared to 5-20% for new ones.2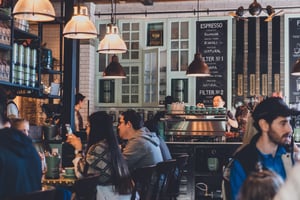 And while some may think that keeping customers loyal can be pricey, it may not eat into profit margins as much you think. In fact, marketing to repeat customers is 80% more cost-efficient than acquiring new ones.1
But in today's hyper-competitive market, where consumers are being conditioned to expect multiple touch points (dine-in, takeout, delivery, online ordering, etc.), it can be difficult to make your brand stand out in the blur of options.
Once customers step in the door, it makes sense to take extra steps to ensure they keep coming back. And the buzz best customers generate through word of mouth and social media can be invaluable. Survey results show that 55% of loyal customers spread the word about a business they favor.2
Because retention is such an important base for any recipe for success, stepping up to the plate with a memorable mix of perks, incentives and services is a must. Considering that a mere 5% improvement in guest retention rates can boost profits by 25-95%,2 it makes dollars and sense to keep these best practices in mind:
Personalized Rewards: Sure, the idea of rewards programs has been around a long time. But mobile technology can make them all the more compelling. Ninety percent of users surveyed feel their mobile loyalty programs offer substantial value, and 95% said they were likely to stick with them.2 Data collected by rewards apps can be used to deliver an unprecedented level of personalization and customization, serving up special offers and incentives based on the member's usage and preferences. But before you settle on a particular app program, make sure it is supported by your POS system.
Signature Offers and Specialties: Signature dishes can help set a restaurant apart and give consumers a reason to choose one establishment over another. Unique culinary creations that consumers rave about and can't find anywhere else are likely to keep them coming back. Sixty-seven percent of millennials surveyed and 64% of older consumers said they were likely to return to order a new dish they enjoyed.3 Reining in the scope of a menu and focusing on specialties based on what your customers tend to order most also makes it easier to build a reputation and brand loyalty, as well as control costs.
Premium Customer Service Plus: No matter how marvelous your menu, ambiance and location may be, there's still no substitute for making sure you are always adequately staffed with employees who are attentive, conscientious and well-trained. Only now, technology has also become an essential component of the foodservice customer service experience. App-enabled takeout and delivery, online ordering and a strong social media presence allow operators to provide a new level of service remotely, and young consumers are likely to expect the ease and convenience of digital technology in most areas of their lives, including foodservice.
Support the Greater Good: Supporting a charity and making charitable giving a priority can help restaurant operations command greater customer loyalty. Brands that actively support charities inspire loyalty in nearly 4 in 10 U.S. consumers surveyed.2 What's more, 72% of bar and restaurant customers surveyed recommend establishments that support a good cause.2 Supporting local farmers is another on-trend way to support the greater good, not to mention help ensure freshness and flavor. Forty-one percent of U.S. customers surveyed gravitate to restaurants that include local ingredients.2
Contact us to learn how to leverage our trusted brands to build customer loyalty and encourage a higher check average from your patrons.
1 Nation's Restaurant News, "Webinar: 5 Steps for Improving Guest Retention with the Mews Tavern, RI", Aug. 30, 2018
2 Buzztime, 7 Secrets for Building Customer Loyalty at Your Restaurant, AppInstitute, Jan. 29, 2018
3 Technomic, Flavor Consumer Trend Report, 2017, p. 76