Posted in Millennials on July 10, 2018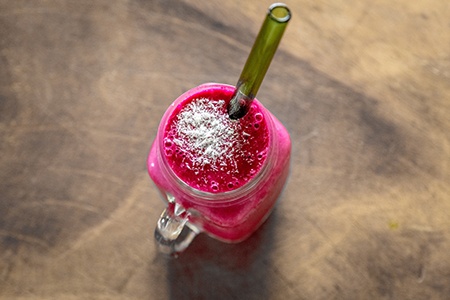 Leave it to the magic of social media to turn the myth of the unicorn into a dream come true for savvy food and beverage brands and foodservice operators. Unicorn food and beverages—those colorful, Instagram-worthy creations that surprise and delight a vast, visually oriented millennial market—are literally custom-made for the age of social media.
"Unicornification" (typically the act of dying food into a dazzling rainbow of pastels, often with a dash of glitter) has morphed everything from cheesecake, fudge, frappes, milkshakes, toast and cocktails into a shimmery, multicolored feast for the eyes.
According to the market research firm Mintel, 93% of Americans are active on social media and 63% of millennials agree they enjoy taking pictures of their food.1 As a result, unicorn concepts have become a go-to source of limited-time promotions for foodservice operators hungry to generate buzz and kick-start sales, especially among younger consumers.
As the generations most engaged in social media, iGen and millennial consumers seem to have an insatiable appetite for wow-factor food concepts that make them want to share pics on social media.2 Branded elements can add to the buzz and even extend it beyond social media.2
What's more, while unicorn concepts are sometimes taken to task for being visually driven at the expense of premium quality, trusted brand ingredients like CHIPS AHOY! or OREO Cookie Pieces can help make concepts like unicorn shakes taste as good as they look.
A Picture Is Worth a Thousand Likes: Foodservice Operators Love Social Buzz
With upwards of 36,510,000 #foodstagram posts, it's easy to get a sense of the popularity of food pics on Instagram and how Instagram-oriented visual presentations can help raise the profile of food promotions.
"As silly as it may sound, we live in an Instagram world where pretty pictures sell," says Kat Odell, a food writer and author of the cookbook Unicorn Food.3 But while it may seem frivolous that unicorns tend to be measured by Instagram likes and shares, there's no denying the importance of their visual formats in achieving differentiation from the competition in a crowded market.
The surprise-and-delight impact of unicorn concepts builds anticipation of the new culinary adventures younger consumers yearn for. The greater the social media exposure and the tighter the window of opportunity to purchase, the more buzz and excitement foodservice operators can foster.
The Eyes Have It: A Visual Feast for Millennial Snack Enthusiasts
This shift to consuming food with the eyes prior to purchase is a factor on the rise in planned dessert occasions, according to the foodservice research firm Technomic, which attributes the increase in part to unicorn limited-time offers.4 Forty-six percent of consumers surveyed (up from 42% in 2015) plan dessert occasions4 and 34% of millennials surveyed find unicorn desserts appealing.5
Millennial and iGen consumers look to social media for a smorgasbord of the latest food and beverage trends. Two in five iGen and one in four millennial consumers surveyed are in agreement that they are exposed to new types of food through social media. Unicorn concepts fulfill their need for novelty. The challenge going forward may be for foodservice operators to keep unicorn concepts from fatiguing and fading into a colorful blur of predictability.
Is the unicorn foodservice trend a fad or forever? Do you think the success of brightly colored food and beverage concepts is really black and white, or is the influence of social media a myth? Sound off below, and find out how we can help develop unicorn recipes that stand out by combining visual appeal with branded quality.
1. Topper, Amanda, Foodservice Trends, Mintel, 2018, p. 22
2. Topper, p. 21
3. Shah, Khushbu, How Unicorn Foods Took Over the Internet, Thrillist, Apr. 28, 2017
4. Mills, Anne and Yonke, Bret, Dessert Consumer Trend Report: Custom Webinar, Technomic, 2017, p. 15
5. Technomic, Consumer Dessert Trend Report, 2017, p. 21