Posted in Technology on June 28, 2022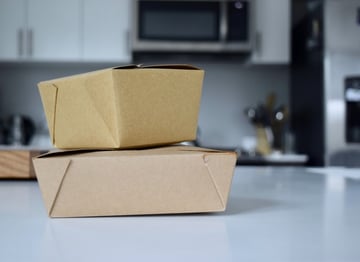 As on-demand culture and digitally driven services grow, so do innovative and diversifying delivery options. To meet accelerating demand, off-premises channels need to deliver an ever-expanding range of services.
For example, third-party platforms now pour on the alcohol delivery and pack in sales with bagged groceries brought to your door.1 And now Uber Eats is offering a broader range of services and capabilities to keep pace with competitors like DoorDash, which has launched self-driving vehicles in San Francisco, and GrubHub, which offers sports stadium pickup that lets fans use mobile pay and skip the concession lines.1
Uber Eats' latest delivery platform enhancements include its own order-ahead stadium service, the Los Angeles launch of a delivery robot pilot program and voice ordering through Google Assistant—a first for third-party delivery companies.1
Similar to GrubHub's sports stadium pickup service, Uber Eats at stadiums allows visitors at a growing number of sports venues to order concessions from their seat with the brand's app, then pick up their food without having to wait in line.
Autonomous delivery via a self-driving car or robot from select restaurants in Los Angeles may be in pilot mode, but the company plans to step up its integration, given benefits such as reduced environmental impact and lower costs with less reliance on labor.
As Noah Zych, global GM for Uber's autonomous mobility and delivery business, explained: "Integrating autonomous, electric delivery options onto our platform from Motional and Serve Robotics is just the beginning of how we will harness this promising technology."2
Uber Eats' pioneering test of voice ordering will have implications for other third-party delivery services, which are likely to follow suit. This summer, a special feature on the Uber Eats app will enable customers with Android phones to order through voice-activated Google Assistant for a faster and more seamless transactional experience.2
New Packaging Steps Up to Drive Delivery Costs and Environmental Footprint Down
Innovative packaging is also being developed to meet mounting market demand for takeout and delivery. More options that emphasize sustainability and reusability are being introduced in response to single-use plastic bans or restrictions and safety concerns that have become top of mind during the pandemic.
Kevin Gorsuch, regional sales manager for paperboard packaging supplier Southern Champion, pointed out that packaging innovations have been propelled by the pandemic. "There's a huge explosion of solutions that weren't there before COVID," he said.3
Biodegradable and compostable packaging is increasingly popular as an environmentally friendly solution, and reusable containers are gaining ground as a money-saving option that eliminates the need for buying large inventories of single-use containers.3
"At the higher-end restaurants they started to do microplastics," said Kim Cassan, VP of marketing for the packaging company Kari-Out. "They're microwave safe, dishwasher safe."3
To learn how sustainable packaging solutions are transforming vending and micro markets, be sure to check out our post, "Care Package: What Sustainable Packaging Means for the Vending and Micro Market Sector."
At Mondelēz Foodservice, our celebrated chefs apply world-class culinary expertise and popular brand ingredients to create travel-friendly dishes, desserts and drinks that meet the needs of a new era in foodservice. Visit our Insights page for actionable market research and industry analysis to help your operation make better-informed decisions and navigate a rapidly shifting competitive landscape. For custom solutions to help you optimize your menu for on and off-premises sales, leave us a message below.


1 Fantozzi, Joanna, "Uber launches delivery robot pilot program; adds Google voice ordering," Nation's Restaurant News, May 16, 2022
2 Guszkowski, Gus, "Uber Eats Set to Pilot Autonomous Delivery with Robots, Cars," May 16, 2022

3 Maze, Jonathan, "As Takeout and Delivery Grow, So Do The Options for Packaging," Restaurant Business Online, May 24, 2022