Posted in Technology on April 26, 2022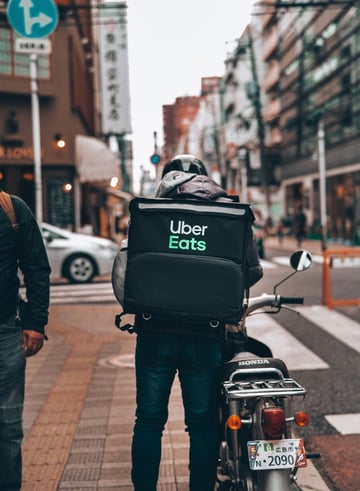 Since the onset of the pandemic, the foodservice landscape has experienced a series of seismic shifts in quick succession. While these changes can seem like a confusing blur at times, an ever-expanding menu of market research has been able to keep up with the dizzying pace and feed the need for competitive insight and analysis.
The "new normal" is constantly evolving, but as Greg Staley, CEO of the back-of-house restaurant management platform SynergySuite, pointed out: "After being pelted with changes and mandates including creating outdoor spaces, social distancing areas, cleanliness protocols, supply chain disruptions, soaring prices, staffing shortages and a wide variety of pandemic-related measures, many restaurant owners are curious about the future industry landscape. And while uncertainty and change can cause unease, there are plenty of upcoming trends for restaurateurs to be excited about."
1
Beefing Up: McDonald

'

s Expands Global Delivery
New business models are a growing trend as restaurants across categories continue the shift to off-premise channels for market expansion. With 34% of Americans surveyed ordering takeout or delivery at least once a week,1 it is clear that delivery continues to be a key channel for driving sales. The challenge has become how to maximize the channel's reach while ensuring it remains profitable for operators.
McDonald's has renegotiated deals with Uber Eats and DoorDash for more favorable franchisee terms and integration into its mobile app.2 As McDonald's CEO Chris Kempczinski explained, the chain's strategic goal for delivery is to "leverage the fact that we are the largest restaurant company in the world, that we have the ability to drive traffic onto apps that we think is second to none. And that should be reflected in the rates that we're paying."2
The burger brand is expanding the global reach of its delivery channel through a new, long-term deal with Amsterdam-based Just Eat Takeaway.com, an international online food delivery marketplace. With delivery available at more than 33,000 of its 40,000 global restaurants (only 3,000 offered the option five years ago),2 the Golden Arches are now poised to span the globe for exponentially greater market share.
Chip Off the Old AI: Chipotle
'
s

'

Chippy

'

Robot Serves Up Innovation
Integrated technology and AI are another trend at the forefront of the flux reshaping the restaurant industry. As explored in a previous post, advances in robotics are increasing operational efficiency and mitigating the shortage and high cost of labor. The National Restaurant Association reports that 7 out of 10 operators surveyed citing staffing as a problem.1
Now Chipotle Mexican Grill has announced that it is testing a robotic arm to make its signature tortilla chips. Created in partnership with Miso Robotics, which produced a burger-flipping robot for White Castle, Chipotle's AI-equipped robot (aka "Chippy"), is busy whipping up the chips at the Chipotle Cultivation Center, the chain's innovation lab, in Irvine, California. Not all the kinks will be worked out, however—and, as Nevielle Panthaky, Chipotle's vice president of culinary, explained, that's by design.
"Everyone loves finding a chip with a little more salt or an extra hint of lime," Panthaky said. "To ensure we didn't lose the humanity behind our culinary experience, we trained Chippy extensively to ensure the output mirrored our current product, delivering some subtle variations in flavor that our guests expect."3
At Mondelēz International Foodservice, we understand that the sweeping changes across the foodservice landscape make menu optimization a must for every operation. Our acclaimed chefs combine culinary innovation with beloved brand ingredients to create travel-friendly, cost-effective dishes, desserts and drinks that help you attract and retain customers in a hyper-competitive environment.
Browse our Culinary Center for a taste of what we have to offer. Contact us below or use this form to learn about custom menu solutions we can develop for your business.
1 Staley, Greg, "A Look at Restaurant Trends in 'The New Normal,'" FSR Magazine, March 22, 2022
2 Maze, Jonathan, "McDonald's Inks Long-Term Delivery Deal with Jet," Restaurant Business, March 22, 2022
3 Castrodale, Jelisa, "Chipotle's 'Chippy' Robot Makes Tortilla Chips Imperfect on Purpose," Food & Wine, March 18, 2022