Posted in Technology on March 15, 2022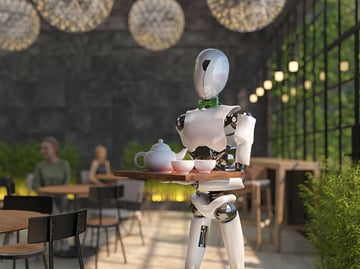 One of the greatest and most far-reaching ramifications of the pandemic for foodservice operations across segments has been its transformative impact on labor. A once-robust buffet of staffing options has become slim pickings for many operators who scramble to find enough employees to ensure a worthy customer experience. And with labor costs rising, staffing has not only become scarce, but it's also increasingly pricey at a time when margins continue to be especially tight.
As a result, the trend of automated and robotic solutions has grown steadily, sweeping across the shifting foodservice landscape, from independent establishments to major restaurant chains to noncommercial operators.
Labor-saving technology once considered cutting-edge is becoming increasingly common. Survey results from computer automation and AI solutions company Advantech reveal that 90% of restaurants plan to increase kitchen display systems that sync to their point-of-sale-platforms to streamline back-of-house operations.1 By displaying orders automatically, identifying special dietary requests, monitoring inventory and signaling low quantity stock, the screens save time and effort and reduce reliance on staff.
What's more, while 75% of restaurants struggle with labor shortage, 46% utilize self-service kiosks to fill staffing gaps and free up employees for more efficient use.1 The many advantages of the kiosks include increased revenue through upsells and cross-sells, personalized ordering and payment, and increased order accuracy. Since 2020, the kiosks have boosted restaurant sales by $42.3 billion.1
Emerging technologies such as automated retail outlets, smart fridges, high-tech vending machines and robotic food stations are poised to proliferate, alleviating staffing pain points and increasing operational efficiency.
In fact, food and restaurant consultants Baum + Whiteman predict: "Accelerated adoption of robots and other forms of automation in the restaurant industry will be the #1 trend for 2022 ... and for years beyond."2 Baum + Whiteman cite a smorgasbord of robotic integrations, from Flippy, White Castle's robotic arm that flips burgers and makes French fries, to Sally, an automated vending salad bowl machine.2
Of Robots and Residents: Robotic Runners Serve Up Senior Living Labor Solution
Noncommercial operators are also feeling the labor crunch and digging into tech solutions that may have seemed unimaginable prior to the pandemic. The dining room at Wesley Enhanced Living, a senior living community in Media, Pennsylvania, has two robotic food runners that cost about the same as human workers.
Created by Richtech Robotics, the ingenious robots do about the same amount of work as three part-time staff servers.3 Each robotic helper is programmed with a 3D floor plan and equipped with sensors to avoid bumping into objects and people while running food and busing tables.
"We actually tried to chase it around, and it can actually outmaneuver us trying to trap it," says Shawn Fontaine, dining general manager at Wesley Enhanced Living.3 "We've thrown walkers in front of it and we've thrown chairs in front of it to try and see if it will cause issues for residents. We've also walked in front of it, and we've jumped in front of it. I've actually laid down in front of it, and I found it just stopped. It goes a different way."3
The robots free up staff to have more face time with the residents, who are amused by the non-human help, which played "Happy Birthday" to celebrate birthdays and Christmas carols during the holidays.
From robotics to revamped menus, we at Mondelēz International Foodservice track the trends that are reshaping the foodservice landscape.
Our chefs specialize in helping you optimize your menu mix for our rapidly changing times. Need travel-friendly dessert or snack concepts to help generate a higher check average? How about innovative signature dishes or limited-time offers to build social buzz and boost sales? Share your challenges below and we'll get in touch to discuss the custom solutions we can bring to the table for your foodservice operation.
1 Advantech, "A Look at Smart Restaurant Technology," Restaurant Business, February 2, 2022
2 Baum + Whiteman, 2022 Food and Beverage Forecast, October 30, 2021
3 Ginerella, Benita, "Struggling to Hire, This Senior Living Dining Room Turned to Robots," Restaurant Business, February 11, 2022