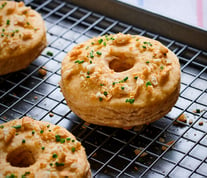 Domino's delivers sales—and a dilemma. In Q3, the pizza powerhouse served up its strongest sales performance in years.1 U.S. same-store sales were up 17.5%, and international same-stores sales rose 6.2%—a record since the company began reporting publicly in 2004.1
Big pizza chains may have seemed pandemic-proof given their already well-developed off-premises capabilities, but COVID-19 costs—including paid sick leave and personal protective equipment, which drained $11 million from the company coffers—squeezed Domino's profit margins.1 Domino's history of delivery-driven business may be the secret sauce behind the record sales, but operational costs during the pandemic have also impeded the company's growth plans, jeopardizing its goal of 25,000 stores globally by 2025.1
And while it's great to have a market with an insatiable appetite for pizza delivery, one of the challenges Domino's has faced during the pandemic has been keeping up with demand without sacrificing quality of service.
"We still have work to do with service levels in absorbing unprecedented volume in stores," CEO Ritch Allison said during the company's Q3 earnings call.1 "At the beginning of the pandemic, when volumes jumped significantly, we slipped a little bit on estimated average delivery times. We have since improved and gotten back to where we were pre-pandemic or better. […] Until we get to a place where we're delivering [in] 20 minutes or less, I will never be satisfied."1
While loyalty membership has grown and online ordering has driven a higher check average,1 the high costs and operational logistics of business during the pandemic continues to pose difficulties for Domino's.
Golden Arches Reach Higher Check Average
McDonald's has also served up a mixed bag of results, with negative guest counts offset by a 4.6% uptick in U.S. same-store sales.2 Increased sales during the dinner daypart and a higher check average from larger group orders contributed to the growth.2
The automated upselling capabilities of the digital menu boards installed at 11,000 of the chain's nearly 14,000 restaurants nationwide have contributed to average check growth.2 Menu innovation, including the Spicy Chicken McNuggets and Travis Scott meal limited time offers, boosted sales in the last month of the quarter.
"Our unique strengths including our unrivaled drive-thru presence around the world, advanced delivery and digital capabilities, and marketing scale have become even more important during the pandemic," McDonald's CEO Chris Kempczinski told Nation's Restaurant News. But while sales sizzled stateside, global same-stores sales edged downward 2.2% for the third quarter ending Sept. 30.2
Variety Is the Spice of Sales at Del Taco
Del Taco's diversified menu and drive-thru and delivery operations are defying COVID-19 odds. The company is one of the few publicly traded chains not in the pizza and chicken wing sectors to report positive same-store sales during the pandemic.3 Its diversified menu, along with its well-honed drive-thru and delivery operations, helped the quick service Mexican brand boost sales 4.1% for the latest quarter.3
Even chains with robust off-premises capabilities are still posting negative comps. But Del Taco's menu has made a difference. Bucking the trend of streamlined menus, Del Taco's wide variety of options—from chicken to beef to vegetarian—has satisfied the needs of hungry families during the pandemic. The brand's dollar deals have proved especially popular at drive-thru where value and variety hit the spot for consumers.3 Del Taco's Epic Burritos, available with handcrafted fresh guacamole, became a favorite for delivery customers.3
Mondelēz International Foodservice can help your operation thrive with innovative, delivery-friendly menu options such as this Buttermilk Cheddar Biscuit Donuts made with RITZ Crackers. What culinary challenges is your operation facing? Share your thoughts below.
1 Fantozzi, Joanna, "Domino's strongest sales performance in decades offset by higher pandemic costs," Nation's Restaurant News, Oct. 8, 2020
2 Luna, Nancy, "McDonald's guest counts negative, but U.S. same-store sales swing positive in Q3," Nation's Restaurant News, Oct. 8, 2020
3 Luna, Nancy, "Del Taco's diversified menu is helping the quick-service restaurant brand beat brutal COVID odds," Nation's Restaurant News, Oct. 9, 2020