Posted in Technology on October 5, 2021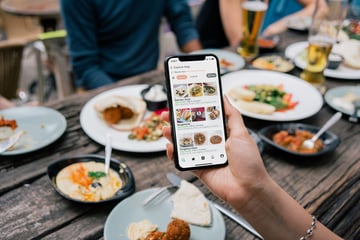 Foodservice is in a state of perpetual flux, as pandemic-propelled innovation continues to drive the industry in new directions—both off-premises and on.
As reported in a previous post, technology proved to be a powerful and pivotal lifeline at the height of the pandemic when the hunger for tech solutions reflected mission-critical urgency. The shift has been so sweeping and dramatic that the pattern of ever-accelerating tech innovation has become the new norm, expanding into an ongoing narrative of breakthroughs and bright spots during uncertain times.
With so much on the line and so many challenges, including labor shortages, supply chain snafus and COVID-19 variants, it's no wonder 68% of operators plan to boost their technology budgets over the next two years.1 "We should expect operators to keep a heightened focus on digital initiatives as a larger share of sales at concepts such as Applebee's and IHOP," projected the market research firm Technomic, which included "Investing in Digital Differentiation" as a top midyear trend for 2021.1
Tech Brings Big Rewards to Loyalty Programs
Sure enough, tech continues to be the bearer of good news for the industry. Mexican quick-service chain Chipotle reports that its tech integrations have paid off in a big way, with digital sales passing $2 billion. The brand's digital business grew about 11% year over year to $916 million—nearly 49% of total sales.2
Chipotle's loyalty program has been a key driver of its digital success, attracting 24 million members to give it bragging rights as one of the fastest-growing loyalty programs. But the chain is not resting on its burritos. Chipotle Rewards is being enhanced with a new Extras feature that lets members earn more free food faster with extra points and "achievement badges" (a first for the industry, the brand claims).
Chris Brandt, Chipotle's chief marketing officer, summed up the strategy: "Offering new ways to engage with Chipotle is essential to the ongoing evolution of our digital business." The enhancements elevate the app as an engagement tool which has been instrumental in helping to "supercharge the superfans," as CEO Brian Niccol put it.2
Food Courts Go Virtual
Meanwhile, in its Rochester, N.Y. supercenter, Walmart opened a "virtual food court"—the first of many in a planned expansion across the United States in partnership with Ghost Kitchens Brands. At the Ghost Kitchen sites, Walmart shoppers will be able to pick and choose menu options from a wide range of restaurant brands, including Quiznos, Cinnabon, The Cheesecake Factory Bakery and many others. Orders can be placed onsite at touchscreen kiosks or on mobile devices, with delivery through DoorDash and Uber Eats. The Ghost Kitchens are designed for optimal efficiency, with streamlined menus and two or three employees per location.

"We are proud to work with Walmart to create best-in-class, technology-driven customer experiences and make top-tier products more accessible across both Canadian and U.S. markets," said Ghost Kitchens founder and CEO George Kottas.3
By harmonizing technological innovation and menu innovation, foodservice operations position themselves for success in an increasingly challenging and ever-changing competitive environment. At Mondelēz InternationalFoodservice, we are committed to ensuring foodservice operations like yours have the right menu mix to help maximize sales on premises and off. Connect with us below to learn how our unique combination of acclaimed culinary expertise and beloved brand ingredients can help your business thrive.
1 Technomic, 2021 Midyear U.S. Trends Update
2 Nation's Restaurant News, "Chipotle Mexican Grill enhances loyalty program as digital sales surpass $2 billion," Sept. 1, 2021
3 Redman 1, Russell, "Walmart opens first U.S. Ghost Kitchens foodservice location," Nation's Restaurant News, Sept. 3, 2021