Posted in Cookies/Bars/Snacks on January 27, 2022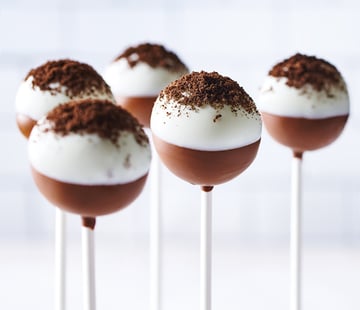 Desserts can boost a restaurant's bottom line—60% of operators say sweet menu items have helped drive profits at their eatery.1
With 56% of consumers reportedly ordering food instead of dining on-premises—or having stopped going to restaurants altogether2—operators may find customers have a growing appetite in the coming months for desserts that can be eaten on the go.
White Castle, for instance, serves cake slices and a brownie on a stick. The desserts' versatile format allows guests to nosh on them immediately or enjoy them at another destination; some pick up several to store in the freezer for later, according to Vice President of Marketing Jamie Richardson.
"Like many other fast food restaurants, about 70% of our business comes from the drive-thru," Richardson says. "People are often eating as they're heading from place to place, or they might be taking it home for dinner."
If your restaurant has been thinking about adding a dessert menu—or retooling your current line-up—the following considerations can help you determine which baked goods, ice cream and other choices might be the best fit.
Opt for Operational Ease
White Castle's individually wrapped Gooey Buttercake, fudge-dipped brownie and other on-a-stick desserts are sent frozen to individual locations, where employees then defrost the anticipated amount they'll serve each day—a system that's helped maximize restaurant resources.
"From a team member's perspective, it's easy because it doesn't have any prep time, other than being able to pick the right one and put it in an order," Richardson says.
The prepackaged cookies and brownies Donatos Pizza sells involve a similar ready-to-serve format; the eatery also, however, offers three larger desserts that are prepared on-site, such as its popular streusel-topped Cinnamon Bread.
Someone placing a single order might get a sub sandwich or personal pizza and a cookie, says Cynthia Ottavio, director of menu innovation; larger groups have the option of partaking in Donatos' shareable breads, Salty Caramel Apple Pie or ordering individual cookies and brownies.
"It's a nice mix," Ottavio says. "[Because] for our segment, dessert is an add-on, we want to have desserts that are complementary to the menu, as well as appealing to consumers—making sure it's a variety of different things that are easy to execute operationally and consumers want."
Personalize Items When Possible
Restaurants can often find ways to customize treats that aren't too labor intensive, according to Patty Mitchell, executive chef for Mondelēz International Foodservice.
"If you'd like to add your own spin, you can purchase unbaked cookie pucks and brownie batter, then add cookie or candy pieces, or icing," Mitchell says.
Although finding a convenient to-go option for ice cream desserts can be trickier, it's possible to make this crowd-pleaser transportable, according to Mitchell.
"Ice cream is a regular favorite with consumers," she says. "For easy takeout, try offering assorted cookies and other toppings, packed separately for the consumer to assemble at home, creating unique one-of-a-kind items."
Incorporate Attractive Components
When it comes to dessert menu curb appeal, intriguing flavors and recognizable ingredients can be just as important as portability.
Global and other emerging tastes, ranging from cornmeal to fig and lavender, have started to pop up in cookies—the third-most common dessert found on restaurant menus—that are being served at fine dining and other eateries, along with flavors that have already become more mainstream, such as red velvet and salted caramel.3
Specific dessert ingredients—including particularly well-known, iconic cookies, candy and other products—can also entice consumers. Brand mentions have, in fact, been included in more than a third (37%) of best-in-class restaurant limited-time offers.4 When deciding which snacks to eat or drink, approximately 27% of consumers say it's very important an item is made by a brand they like.5
The Cookies 'N Cream Twists dessert Donatos introduced in November really resonated with the pizza chain's customer base, according to Ottavio, who says the pull-apart item, topped with vanilla icing and OREO® pieces after it comes out of the oven, originated from one of the company's periodic menu reviews.
"We talked about how we [could] do something to bring some buzz, some excitement to the dessert line," she says. "People are in love with OREO®Cookies, whether it's a cookie topping or sundae or mixed in a shake. We have seen an increase in our dessert sales by adding this to our menu. It has become explosive."
Reduce Any Ordering Limitations
Desserts frequently get their own menu designation, but that doesn't mean they can—or will—only be eaten after meals.
With all-day snacking gaining ground—85% of global consumers eat at least one snack for sustenance and one snack for indulgence each day, according to Mondelēz International's annual 2021 State of Snacking™ report6—some operators are extending the hours they serve baked goods and other indulgent items.
In one survey, 20% of consumers said they'd recently had a dessert as an afternoon snack; 24% had eaten one with dinner, and 32% indulged in a late-night sweet treat.7
However, desserts might not be big sellers during all dayparts; operators could find, for example, they aren't ringing up a ton during breakfast.
While Richardson says White Castle's stick-mounted sweets may not be the restaurant's main draw in the morning—or even during the rest of the day—customers still appreciate being able to order a dessert when they stop by.
"It isn't a huge part of the overall menu mix; our sliders are the primary reason people come," Richardson says. "[But] it's an experience, and something that makes a visit to White Castle more distinctive. Not everybody is in the mood for dessert, but when the craving arises, we've got you covered."
1 How Restaurant Operators Can Tap Into the Latest Dessert Trends, SmartBrief, October 20, 2021)
2 "National Restaurant Association Releases 2021 Mid-Year State of the Restaurant Industry Update," National Restaurant Association, August 31, 2021
3 The World of Cookies, Datassential, 2021
4 New State of the Menu Report from Technomic Spotlights Trends to Come in 2021, Technomic, February 23, 2021
5 "Snacking During COVID-19: Finding Comfort in Familiar Brands," The Hartman Group, 2021
6 State of Snacking™ report, Mondelēz International and The Harris Poll, 2021
7 Desserts' Sweet Spot SNAP! Keynote Report, Datassential, February 2019