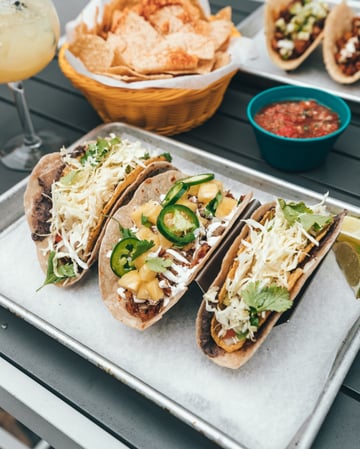 Restaurants are hungry to return to normal—and while "normal" may be a thing of the past as the aftershocks of the pandemic continue to transform foodservice, operators are already getting a taste of a business boost.
Based on a food-and-games concept beholden to in-store traffic with little off-premises business, eatertainment chain Dave & Buster's was hit especially hard by COVID-19. But with locations reopening across the U.S., the chain's CEO Brian Jenkins announced "our brand is back" in a statement about first quarter earnings.1
Having reopened 138 stores—including critical New York City and California locations—by the quarter's end on May 2, Dave & Buster's had plenty to celebrate. The 141-unit chain had even opened a new store. Although year-over-year Q1 revenue fell $100 million short of its 2019 mark, the brand is bouncing back.1
"The strength and resilience of the Dave & Buster's brand has never been more evident," Jenkins explained. "We saw a significant improvement in demand across our store base in the first quarter, including at our recently reopened New York and California stores."1
This summer, watch for the brand's "We're back" marketing campaign and the addition of seven new games, 23 new dishes, and four summer cocktails.1
Applebee's Customers Are Eatin' Good in the Neighborhood Again (and Online)
Applebee's Neighborhood Grill + Bar president John Cywinski also has expressed excitement about the dam for pent-up demand bursting. "The pendulum has swung and the future is really bright." Guests are eating and drinking more, lingering longer, and tipping better, he said in a recent CREATE: The Future of Foodservice webinar.2
While Applebee's "to-go specialists" cater to a key new source of sales (a third of the brand's total business is now off-premises), returning traffic is jump-starting onsite revenue. March and April stood out among the chain's most profitable since its inception.2
"I do believe that sitting down and connecting with another human being in a fairly disconnected world, someplace other than your home, over a good meal and a drink, and being served is really important right now, and we're seeing that in in our business," Cywinski said.2
That said, Applebee's curbside delivery, Cosmic Wings virtual concept and ghost kitchens remain important to the chain's strategic growth.2 Cywinski also credited a trimmed menu for sharpening the focus on perfecting favorite items and eliminating waste.2
Format Variety Spices Up Sales at Chipotle
Like Applebee's, Chipotle Mexican Grill plans to stay nimble with pandemic-inspired innovations. Curbside delivery, "Chipotlane" drive-thrus and digital-only kitchens all will play a role in the brand's growth strategy as it expands its repertoire of formats, according to Chief Development Officer Tabassum Zalotrawala.3
"The restaurant of the future is not just one format. It's one that continues to evolve," she said in a recent CREATE: The Future of Foodservice webinar. It's more important than ever to find the format that fits best in a certain trade area—whether it's a delivery-only or digital-only location or one that needs a larger dining room and drive-thru, Zalotrawala said.
Digital accounts for approximately half of all Chipotle sales, so online and in-app business will continue to be an essential channel for revenue growth. "Our digital business in every restaurant is almost $1 million, so it really is a restaurant within a restaurant—and that's a big change," Zalotrawala said. "It's no longer a side business. It's a business on its own."
On premises and off, Mondelēz International Foodservice offers a unique combination of culinary creativity and popular branded ingredients to help you maximize sales in the post-pandemic era. If you haven't already, be sure to register for our complimentary Snack & Dessert Solutions, which provides valuable insights, recipes and money-saving offers to help move your business forward. To learn about custom menu solutions our acclaimed chefs can develop for your foodservice operation, simply request information below
1 Lalley, Heather, "Dave & Buster's: 'Our Brand Is Back,'" Restaurant Business, June 10, 2021
2 Thorn, Brett, "Applebee's president: Full-service restaurants have a bright future," Nation's Restaurant News, June 9, 2021
3 Jennings, Lisa, "Staying nimble: Chipotle prepares for expansion with multiple formats," Nation's Restaurant News, June 10, 2021