Posted in Millennials on March 27, 2017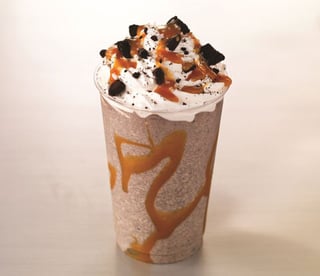 Get Recipe
A perennial favorite, ice cream has a long history as the cold snack that consumers stay hot for. It's no wonder that when New York's Museum of Ice Cream debuted last year, fans of the creamy favorite scooped up all 30,000 tickets in five days.1 The joy of ice cream continues to captivate imaginations and tantalize taste buds.
According to Datassential, one out of three consumers said that their ice cream consumption increased in 2015.1 In fact, consumers told the food industry research firm that there was a greater increase in their consumption of ice cream than any other dessert.1 A key factor in ice cream's enduring popularity and expanding market reach is its evolution as a versatile platform for eclectic flavor profiles.
The Scoop on Innovation and Tradition
A quick look at ice cream innovations in 2016 underscores this foodservice trend. From bubble waffle cones and donut cones to Thai ice cream rolls and sweet corn-flavored ice cream served on grilled corn, hot new twists on the cold and refreshing staple have helped ice cream sales sizzle.1
While innovation is vital for sales growth, especially among the millennial market which hankers for bold and adventurous flavor experiences, Datassential's research shows that the majority of consumers still tend to favor the classics. For sundaes, chocolate, vanilla and strawberry take top honors as preferred flavors.1 The most-preferred toppings are hot fudge, whipped cream and caramel sauce.1
And yet the fastest growing flavors among the latest dessert trends in ice cream are salted caramel, chocolate hazelnut and peanut butter cookie, all of which veer from traditional preferences.1 Cranberry and pumpkin cheesecake are among the seasonal flavors that are also becoming increasingly popular.1
Variety Keeps Sales from Cooling Off
Mintel research reinforces the importance of variety as a key driver of ice cream sales, with 27% of consumers having more than one type of frozen treat or flavor in the freezer at a given time, and 41% purchasing products with nuts, cake bits or other mix-ins.2
As Beth Bloom, senior food and drink analyst at Mintel, explained: "The wide range of single-flavor frozen treats and products with unique mix-ins are keeping consumers from becoming bored with the category."2 While new flavor trends and international varieties like gelato are popular, mix-ins give traditional offerings a boost of flavor, and fruit and nut additions could appeal to consumers looking for better-for-you options.2
Giving a Lick for Premium
Nine in ten consumers brought frozen treats over a six-month period last year, with dollar sales growth driven by demand for premium varieties, for which 34% of consumers are willing to pay more.2 Premium ice cream also scores points for more-satisfying taste and better-for-you quality, with more than a third of consumers agreeing that premium ice cream tastes better than conventional varieties, and 14% perceiving such options as healthier.2
For the 52 weeks ending June 12, 2016, ice cream dollar sales were anything but frozen, jumping 4% to reach $5.7 billion.3 So what's the recipe to ensure ice cream continues to melt hearts in 2017 and beyond? According to Mintel's Bloom, "putting a heavy focus on quality, taste and health will resonate with consumers, and emphasizing single-serving packs and messaging around the variety of products should appeal to Americans' preference for snacking."2
While ice cream sales may fluctuate, its appeal remains frozen in time. Maryellis Bunn, co-creator of New York's Museum of Ice Cream, told the New York Times that though she considered other subjects for her museum, "nothing is going to foster the same joy that a scoop of ice cream does."1
Any feedback on the consumer's endless appetite for ice cream, or thoughts on ice cream as a millennial snack? What plans do you have to leverage July as national ice cream month?