Posted in Restaurant Operations on June 9, 2020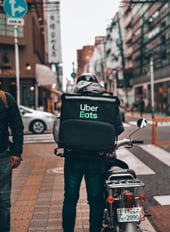 As the COVID-19 outbreak compels restaurant operations to make a turn toward off-premises sales, third-party delivery picks up more speed on the fast-track of growth.
Survey results from Service Management Group, a customer experience management firm, show that third-party services were gaining ground pre-pandemic. Given that over 80% of consumers surveyed were already aware of the services and 43% had used them over a 3-month period, it's no wonder that third-party delivery would expand so rapidly during the outbreak.
As Michael Vance, SMG's president, explained: "When you combine the impact of the coronavirus and the widespread awareness and increasing adoption of third-party delivery, restaurant brands can't afford to overlook this growing channel. Delivery sales are projected to outpace on-premise revenue for the near future, and third-party delivery owns a big chunk of the market."
With over $10.2 billion spent on third-party delivery services in 2018,1 there doesn't seem to be any turning back—and the revenue engine may just be revving up. According to Swiss investment bank UBS, delivery sales could be worth $365 billion by 2030.2
Even third-party holdouts started to count themselves in. Take Panera, for example. Though the fast casual giant opted for its own delivery program after taking a taste of third-party aggregators, Panera came back to the outsourcing table and partnered with UberEats, DoorDash and GrubHub.
Delivering Higher Margins and a Higher Check Average
Panera sought to serve up a better customer experience with its own delivery service,1 which enables the chain to control delivery from start to finish and avoid the commission fees that have become a roadblock for other restaurants struggling to maintain favorable margins.
Panera's EVP Chief Growth and Strategy Officer Dan Wegiel explained why the chain shifted gears: "We initially landed on our [in-house delivery] model because it allowed us the fastest geographic reach and seamless experience that matches Panera quality. But in the interim, I think the business has evolved for both Panera and the third-party players. Delivery became our primary growth driver and continues to grow in parallel with third-party."3
Wegiel cited huge popular demand on the GrubHub and DoorDash apps as a driving factor in Panera's decision to turn toward third-party integration. Though not available through them, Panera found that it was the No. 1 brand searched on those apps.3
While in-house delivery may seem more efficient and cost-effective, third-party apps can expand market reach exponentially, allowing restaurant operations to deliver to more customers and driving sales in untapped areas.
Panera's plan was to enable customers to order from DoorDash, GrubHub and Uber Eats but have the in-house service retain responsibility for delivering the food. By maintaining its own fleet of delivery drivers, Panera can more closely monitor quality control and mitigate costs for third-party delivery drivers. For orders that come through third-party apps, Panera would apply the same charge as it would for internal orders, without an additional service fee.3
"We wanted our drivers to represent the last mile so we can match the quality we want," Wegiel said. "Your order flows directly into our central system and it shows up like any other Panera order—no tablets or manual intervention, nothing that would create friction. It won't slow down or create issues."3
As part of the chain's response to the pandemic, Panera now waives its delivery fee and offers to deliver groceries as well as menu items in select areas.
Starbucks Brews Up More Robust Delivery
Starbucks is another major foodservice brand to turn to delivery to drive the bottom line prior to the pandemic. The coffee juggernaut expanded its delivery capacity as part of a strategy to offset a pattern of decreasing in-store traffic. Along with adding more drive-thru windows and making its app available to all customers and not just rewards members, Starbucks is partnering with Uber Eats to bring delivery to seven major U.S. cities.2
The coffee chain's deal with Uber Eats augmented a partnership with Postmates to make inroads into new markets, where customers will eventually be able to order from 95% of menu items.2 But like Panera, Starbucks faces bumps in the road that need to be bypassed in order for delivery to earn as much revenue as possible. The logistics of quality control of coffee, which is time- and temperature-sensitive, presents a critical delivery challenge.
As Melissa Wilson, principal at the food industry research firm Technomic, said: "They had some challenges when they rolled out mobile ordering because it strained their prep time, and most places do see a business bump when they introduce third-party delivery, so that will be something they have to manage."2
Available in restricted areas with a limited menu, Starbucks is perking up sales through its Uber Eats delivery service during the pandemic.
To learn how Mondelēz International Foodservice can help your operation overcome the challenges and capitalize on the opportunities of delivery during and immediately following COVID-19, reach out below. Tap our culinary and logistical expertise to help ensure off-premises foodservice delivers the best ROI.
1 Lucas, Amelia, Panera partners with UberEats, DoorDash and GrubHub to expand its in-house delivery, CNBC, Aug. 27, 2019
2 Telford, Taylor, "Starbucks isn't as popular as it used to be. So it's trying out delivery," The Washington Post, Jan. 22, 2019
3 Fantozzi, Joanna, "After holding out on third-party delivery, Panera Bread dives in with DoorDash, GrubHub and Uber Eats partnerships," Nation's Restaurant News, Aug. 27, 2019